Recorded Live at Marin Veterans Memorial Auditorium in San Rafael, California on February 28, 1986.
A Quick Look at the 2-LP Gold Vinyl Limited Edition (7,500) Record Store Day Black Friday Release, 2023.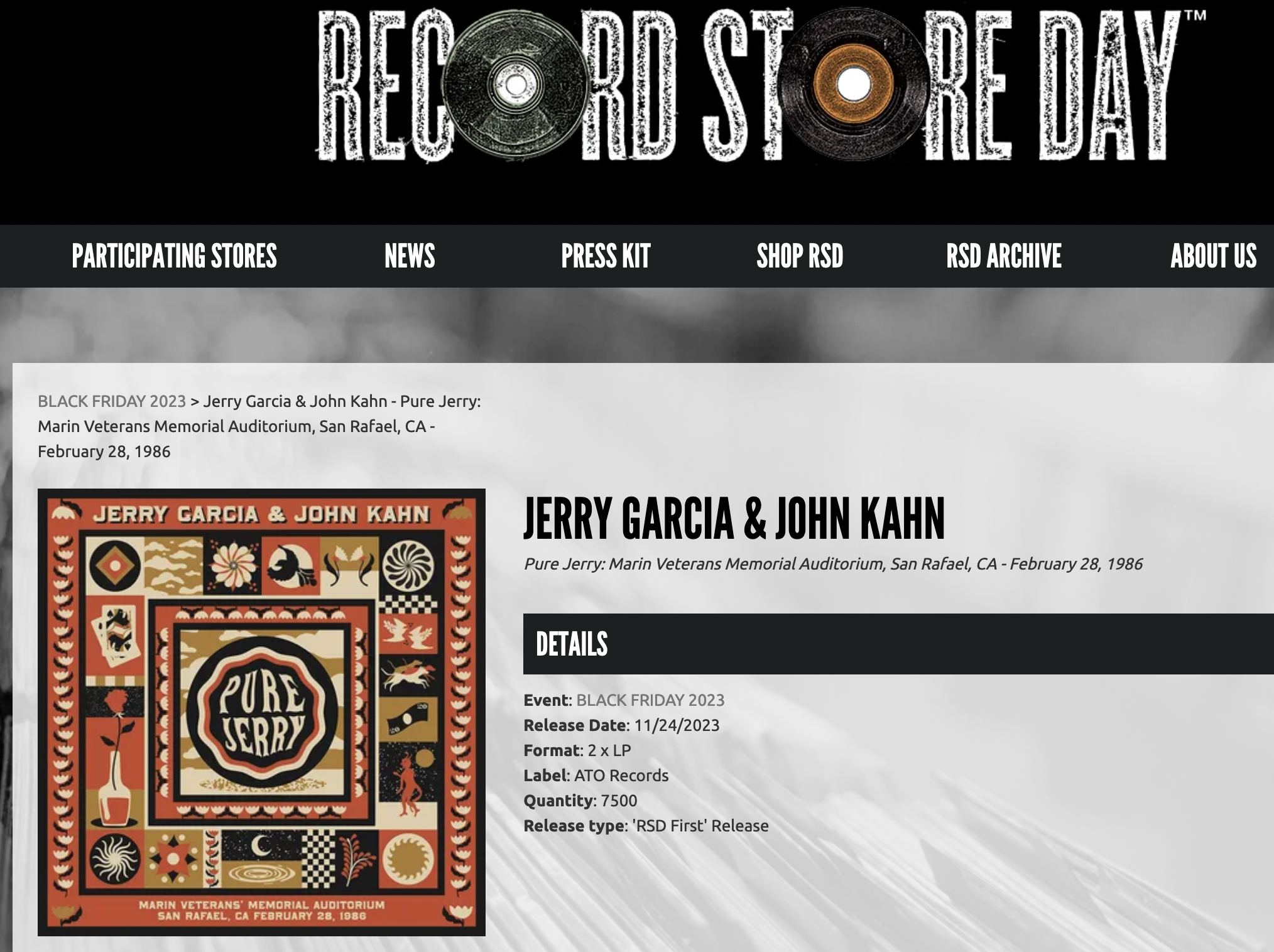 Pure Jerry: Jerry Garcia & John Kahn LIVE Marin Veterans Memorial Auditorium, San Rafael, California - February 28, 1986
     In a historic homage to the heyday of live recordings, the eagerly awaited vinyl debut of "Pure Jerry: Jerry Garcia & John Kahn LIVE at Marin Veterans Memorial Auditorium in San Rafael, California" hits the shelves as part of the 2023 Record Store Day Black Friday releases. This auditory time capsule, recorded on February 28, 1986, (less than a year before Garcia and The Grateful Dead's commercial zenith), unfolds as a testament to the enduring allure of Garcia's live performances.
   The album, originally released on CD and helmed by producer John Cutler in 2009, now resurfaces in 2023, with remastered audio and new visual packaging. A striped down performance featuring Garcia on guitar and vocals with his long-time collaborator, bassist John Kahn, is presented on (Gold) vinyl for the very first time, adorned with all-new artwork created by Gabe Schneider (Sight Study), encapsulates the spirit of this unique performance.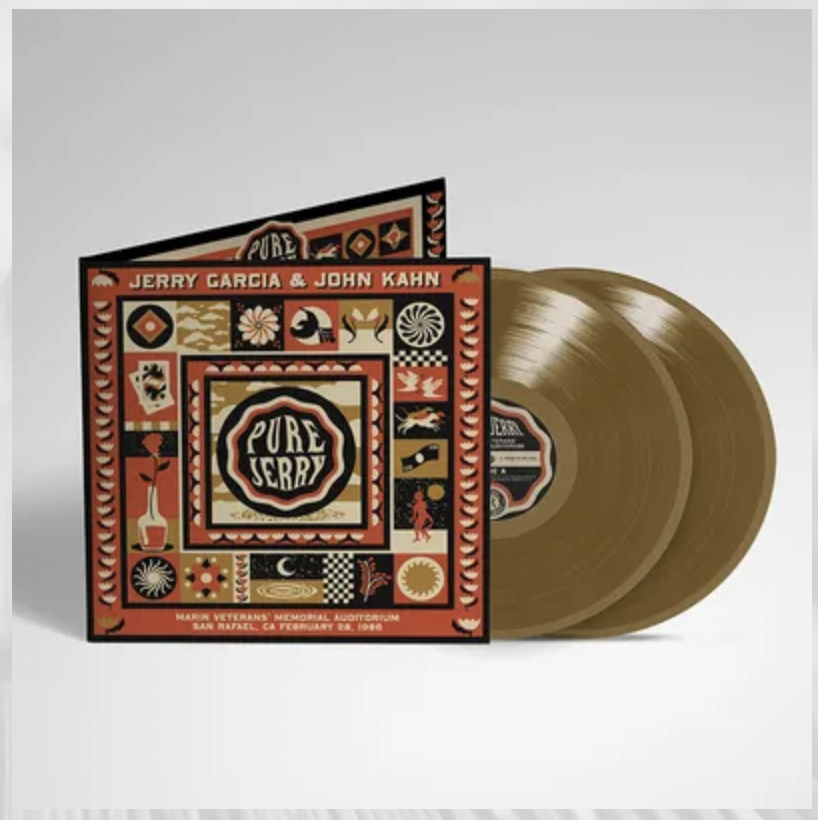 With a repertoire of twelve classic tracks, Garcia (1942-1995) and Kahn (1947-1996) embark on a journey that remains timeless. Garcia's compositions, co-authored with Robert Hunter, share the stage with classics from the likes of Bob Dylan, including the enchanting "When I Paint My Masterpiece" on Side B/Track 1. The musical odyssey also features a captivating rendition of "Goodnight Irene" (Side D/Track 2), penned by John Lomax and Huddle Ledbetter, clocking in at nearly eight minutes. The blues-infused tracks, such as "Spike Driver Blues" and the opening number "Deep Elem Blues," showcase the impeccable balance between Kahn's bass and Garcia's signature guitar and vocals. Noteworthy is the revelation on Side B/Track 3, "Run for the Roses," where Garcia unveils the embryonic elements that would later blossom into the iconic guitar parts of The Grateful Dead's hit "Touch of Grey."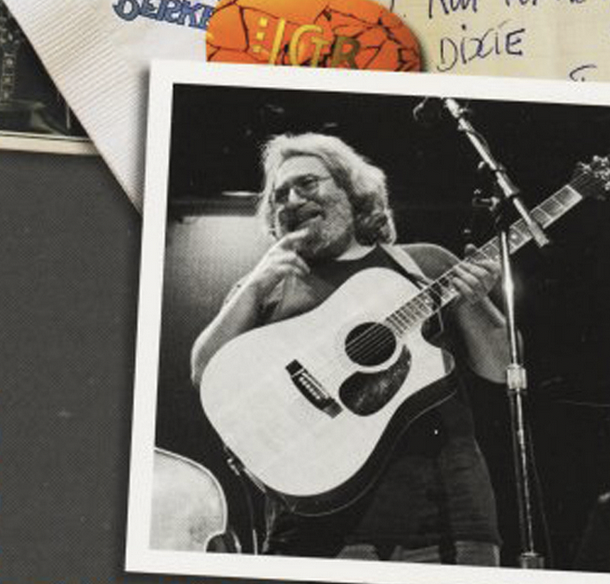 The historic Marin Veterans Memorial Auditorium (est. 1971) located in Jerry Garcia's stomping grounds of San Rafael, California serves as the backdrop for this sonic spectacle. In an interview with Grateful Dead Family Discography (DeadDisc.com); Garcia noted  "Marin Vets turns out to be an incredibly nice room to record in. There's something about the formal atmosphere in there that makes us work." The performance, remastered from original two-track recordings, captures the raw, unbridled energy of that fateful night. The liner notes emphasize the album's authenticity, stressing that "these recordings are not to be confused with fully produced studio masters" but are a homage to the electric spirit of that unforgettable night. With a limited edition of 7,500 copies pressed on two 180g gold vinyl records, "Pure Jerry" emerges as a coveted relic documenting a time and place never to be replicated. 
DETAILS
Event: BLACK FRIDAY 2023 
Release Date: 11/24/2023
Format: 2 x LP
Label: ATO Records
Quantity: 7500
Release type: 'RSD First' Release
SIDE A:
1. Deep Elem Blues
2. Little Sadie
3. Friend Of The Devil
SIDE B:
4. When I Paint My Masterpiece
5. Spike Driver Blues
6. Run For The Roses
7. Dire Wolf
SIDE C:
8. Jack A Roe
9. Oh Babe It Ain't No Lie
10. Bird Song
SIDE D:
11. Ripple
12. Goodnight Iren
#RSD #RecordStoreDay #SmallBusiness @WattsMusic 
#GratefulDead #JerryGarcia #JohnKahn #Marin #VeteransMemorialAuditorium #SanRafael #California #LiveMusic #MusicHistory #RecordCollection #Vinyl #Records #RecordAlbum #LP #NewMusic #ThelenCreative #AlbumReview #MusicReview 
#ATO #ATORecords