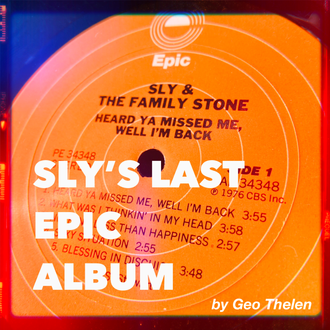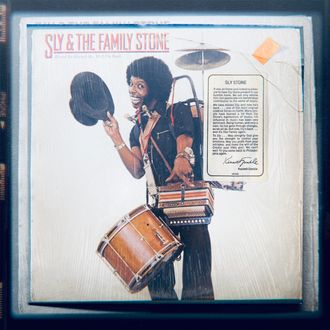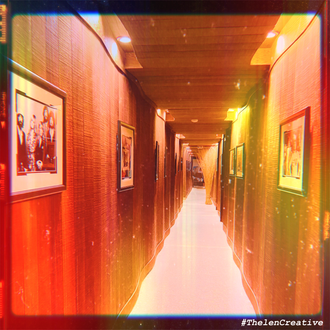 Sly's Last Epic Album   written by Geo Thelen 
Three Grammy-nominated artists reflect back on the making of Sly Stone's last album on Epic Records.
Thelen Creative reached out to three Grammy-nominated recording artists who worked on the last Sly & The Family Stone album with Epic Records, Heard Ya Missed Me, Well I'm Back, (1976) to get their thoughts on making a record with the funk legend during one of the most tumultuous periods of his life. 
Heard Ya Missed Me… 
   Sly Stone had a riot goin' on in 1976. The prior 24 months saw Stone get married, divorced, file for bankruptcy, cope with his son having been mauled by the family dog, and father a daughter out of wedlock with the last remaining original Family Stone band member, Cynthia Robinson. Stone's world was fragmented. The troubled artist was at a personal and a musical crossroads brewing since the height of his success in the early 1970s. 
   Sly Stone had released his first album without longtime bandmates, The Family Stone, the previous year to less than favorable reviews. Earlier in 1975, the group (having established a reputation for showing up late or not at all) played a sparsely attended Radio City Music Hall event that ultimately dissolved the Sly and The Family Stone band as a single-family unit. 
   Heard Ya Missed Me, We'll I'm Back was a last chance album for Sly Stone, at least in the eyes of his longtime record label EPIC/CBS Records. Stone's previous run of releases had sold progressively less- combined with his erratic history, the label didn't need an excuse to drop the "king of funk." 
…Well, I'm Back 
   Sly Stone hadn't actually been "gone," having released three albums in the three years prior to Heard Ya Missed Me in '76. Sly and a retooled version of The Family Stone band continued to tour as well, introducing the US to Bob Marley and The Wailers as their opening act on the 1973 Fresh tour. Mr. Stone, however, had developed a perception problem based on years of questionable behavior and by mid-decade had been mostly  tuned out. 
   The Sly and the Family Stone albums released after 1973 were oft compared to earlier commercially popular hits and constantly competed with the ghosts of having two of the top 100 albums of all time. By 1976, the funky Family Stone who played at Woodstock had now been around for over a decade- while the music of the east and west coasts was feeling the wave of disco. The times were changing, and Heard Ya Missed Me reflects this musical crossroads showing the varied influence of everything Sly Stone was capable of keeping in his head at that time; 50's doo wop ("Nothing Less Than Happiness"), Latin ("Heard Ya Missed Me"), disco ("What Was I Thinkin' In My Head"), bluesy ballads ("Blessing In Disguise") and of course some funky-ass funk ("Mother Is a Hippie"). 
A Bay Area Affair 
   Production of Heard Ya Missed Me, Well I'm Back was largely a San Francisco Bay Area affair. The bulk of recording was done at the CBS Columbia studios (later Automatt) in San Francisco. String parts and late-night "rehearsals" would take place on the other side of the Golden Gate Bridge in Sly's studio space known as "the Pit"- located at the famed Record Plant recording studio in Sausalito. "The Plant," as it was known, was a comfortable and familiar space for Sly Stone having tracked his album Fresh there during the studio's earliest days in 1972. It was during 1976 that Fleetwood Mac also recorded their Rumours album at the Record Plant (FEB-AUG) and where Stevie Nicks slipped down the hall from her Fleetwood Mac bandmates into the magic of Sly Stone's studio and reemerged with the classic "Dreams". It was the Bay Area scene. 
   For 'HYMM,' Stone brought on several future Grammy-nominated artists to replace longtime Sly & The Family Stone band members. The 1976 Heard Ya Missed Me sessions included Grammy-winning guitarist & Musicians Hall of Fame member, Peter Frampton, 3x Grammy Nominee & West Coast Blues Society Hall of Fame member, Lady Bianca, TV & film composer, Ed Bogas, and saxophonist, Johnny Colla -a soon to be founding member of the Marin County-based group, Huey Lewis and The News.
   As Colla recalls, "Sly didn't seem to make records like most artists. He might start on a tune then shelve it, only to pick up the idea for a subsequent record. For instance, we made Heard Ya Missed Me in '76, and three years later, Sly released Back On The Right Track. Meanwhile, at least three of the tunes on 'Back' were started during 'Missed Me,' and in fact my horn parts and BVs (background vocals) are on that record with no credit . . . I was already in HLN when Back On The Right Track was released!" 
   The reusing of previous themes, musical phrases and recordings was not uncommon on later Sly and the Family Stone albums and is present on 'HYMM' as represented in the refrain on "Everything In You" and its' related vibe to the earlier Sly and the Family Stone song, "Everybody Is a Star." Parallels can also be heard on the sonically familiar intro of "The Thing" and with the opening string crescendo of the 1969 hit, "Sing a Simple Song." Most certainly some of the actual recordings from these 1976 sessions did end up on later albums.   
Spirit of '76 
   "There was never a dedicated 'song list' when Sly made records," according to Mr. Colla. But when it was time to roll tape, Sly knew what he wanted, recalled Oakland, California-based (3x Grammy-nominated) vocalist, Lady Bianca. "I was on backgrounds for "Heard Ya Missed Me," and obligato on "Blessing In Disguise"… all arrangements of vocals were arranged by Mr. Stone." In contrast to some of her later work with Van Morrison, whose background arrangements were created "on the spot at the Record Plant," according to Bianca. "I jumped right in. Van Morrison liked the music to have spontaneity." 
   A fragmented non-linear scene is also recollected by composer Ed Bogas, who played and arranged string parts alongside Sly on, Heard Ya Missed Me. "I got a call from Sly… a day or so before the session, and he said, "come on down (to the Record Plant), and we'll do some strings." So I called up some of my string players, which included a symphony concertmaster, and we show up to a crazy scene." Mr. Bogas had also arranged strings on the previous Sly Stone album, Small Talk in 1975 and would soon begin a decade-long run as music composer for the Peanuts franchise after the unexpected passing of Vince Guaraldi in February of 1976. 
   "Sly was very friendly. He liked what I did and liked having a violin in the group. But it was a bit sketchy. We had 3 or 4 violinists on this session including a symphony master and they were blown away by the scene! Sly seemed heavily on drugs, very high, and his attention would wander. He had fragments of songs and would bounce from one to another but then focus long enough to record the parts. We weren't really used to that." 
             SEE Short 1 minute clip of Sly Stone rehearsing at the Record Plant during the Heard Ya Missed Me, Well I'm Back sessions, 1976. 
   Heard Ya Missed Me was released on December 18, 1976, and was supported with a two-month tour and several high-profile television appearances. But even with the public rebranding efforts, the new Sly couldn't regain the old luster that had inspired a generation of artists and fans. The album fell off the music landscape and ultimately failed to chart. Stone would be dropped from the record label he had been on since the good old days of 1966 and wouldn't release another album for nearly four years. The decade started with Sly and the Family Stone as one of the top musical acts of the 1970s and ended with Sly standing alone at the doorstep of hairbands. Lady Bianca's lament echoes the thoughts of many who were introduced to a new form of music, style, and expression inspired by Sly AND The Family Stone. "It was my dream come true to be able to work with him, as he was my mentor… unbeknownst to him." 
Sly's Last Epic Album on YOUTUBE
Geo Thelen is a #musichistory observer / participant. 
Follow Thelen Creative @ Instatoblast on the 'gram. 
Sources: 
Sly & The Family Stone. Heard Ya Missed Me, Well I'm Back. Epic Records, 1976 
Bogas, Ed. Phone Interview by Geo Thelen. Thelen Creative, Feb. 2022 
Bianca, Lady. Interview by Geo Thelen. Thelen Creative, Feb. 2022 
Colla, Johnny. Interview by Geo Thelen. Thelen Creative, Feb. 2022 
Sausalito Record Factory Archives, 2200 Bridgeway, Sausalito, California   
"Sly Stone at Home." Evening Magazine, Interview by Jan Yanehiro, KPIX News, Aug. 1976 
"Sly & The Family Stone." Tony Orlando and Dawn, Interview by Tony Orlando, CBS, Oct. 1976 
"Fleetwood Mac - Rumours." Classic Albums, Mercury Studios, UK, June, 2009     
Images Courtesy: Thelen Creative & Sausalito Record Factory
#MusicNews 
#SlyStone #SlyandtheFamilyStone #HeardYaMissedMe 
#EpicRecords #VinylRecords #RecordCollection #RecordAlbum 
#JohnnyColla #HueyLewisandtheNews  #LadyBianca #EdBogas 
#QuestLove #SlyStoneDocumentary #SummerofSoul #Documentary #MusicHistory 
#Grammys #GrammyAwards #recordingacademy #GrammyFlashback 
#SlysLastEpicAlbum #ThelenCreative 
#AlbumArt Image by @ Instatoblast 
Audio = Sly Stone 'Heard Ya Missed Me… Well, I'm Back' 
Video = 1976: Sly Stone at historic #RecordPlant Studio, Sausalito, California