pepperland : woodstock west (1970-1973)
🎸 The Untold Story of Infamous Post #SummerofLove California Music Venue
50 Years ago...
🎙 Pepperland : Woodstock West 🎸 (1970-1973)
By Geo Thelen
with Contributions from
  Big Brother & The Holding Company drummer, Dave Getz
  Clover guitarist/vocalist/songwriter, Alex Call
  Sons of Champlin roadie (42yrs), Charlie Kelly
  Cold Blood mgt. / Fillmore East & West Stage Mgr. Charlie Ellicott
  Pepperland ownership family, Charlie Litchfield
  Pepperland Promoter, Skip Whitney
  Pepperland Stage Manager, Mapes Root
        The San Francisco Bay Area has a rich history of showcasing musical performance. From gold rush-era piano saloons to smoky 1950s jazz clubs and the psychedelic ballrooms of the 1960s, numerous Bay Area music venues have served as the backdrop for the region's ever-changing eclectic musical expressionists. Longtime sites like the Fillmore in San Francisco and the Trident in Sausalito are today reminders of the Bay Area's historic musical evolution.
   
     As the honeymoon from the Summer of Love was wearing off in the late 1960s, many Bay Area musicians were migrating north from the increasingly seedy mad scramble of San Francisco into easygoing Marin County. The influx of musicians inspired several new North Bay music venues. Places like Lion's Share in San Anselmo and The Sleeping Lady in Fairfax had long runs and showcased great talent, while other clubs closed as quickly as they had opened. Although short-lived (1970-1973), the former Pepperland rock hall in San Rafael is one of the most historically underrated music sites in the Bay Area, having hosted some of the biggest names of the post-1960s era -including dozens of artists who had played Woodstock, earning it the nickname "Woodstock West."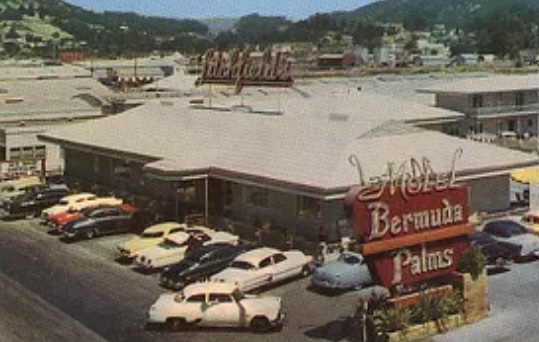 A Place in the Sun 
    The specifics regarding the establishment of Pepperland remain as hazy as the air in the club itself. Nevertheless, in late 1969, work began to transition music performances from a club at the Litchfield's Bermuda Palms Motel (737 E. Francisco Boulevard) in San Rafael, California, to a much larger building on the same lot (now 721 E. Francisco). 
   
     Litchfield's Bermuda Palms Motel was constructed in 1949 by Marin County, California resident and construction mogul Irving "Whitey" Litchfield. The motel resort ultimately included a ballroom, upscale dining room, Bali Hai Cocktail Lounge, and convention rooms. The Bermuda Palms Club hosted nightly dancing and was known by locals as the dance hall at Litchfield's Bermuda Palms. The original motel is still recognizable by the refurbished Litchfield's sign along Highway 101, twenty minutes north of San Francisco. According to Marin resident Charlie Litchfield, "My grandfather, Irving "Whitey" Litchfield, built the original Bermuda Palms motel complex in the late '40s, including the iconic Litchfield's sign. It was originally a resort motel with an Olympic size pool. Sometime later, he built over the pool and created the club, centered around the large ballroom that hosted shows and entertainment." 
  
     The Bermuda Palms club attracted several name artists during the 1950s & 60s, including Duke Ellington, Count Basie, Lionel Hampton, and Etta James. It was a popular California gateway and drew many entertainment influencers, including American Bandstand host Dick Clark. Movie stars John Wayne, Lauren Bacall, Humphrey Bogart, and Robert Mitchum stayed at the resort while filming "Blood Alley" at nearby China Camp (State Park) in 1954. Whitey Litchfield also facilitated a boxing camp during the 50s frequented by boxing greats Sugar Ray Robinson, Rocky Marciano, and Don Cockell, -who trained at the site for his World Heavyweight Championship fight against Marciano on May 16, 1955. Alex Call, lead guitarist / vocalist for the popular Marin-based band Clover, shared this description of Litchfield from his autobiography, 876-5309/Jenny. The song that saved my ass… for a while. "Whitey, who must have been in his sixties at the time, was a real character. He was, short, wiry, and tough; a film noir pug-faced gangster with a heart of gold and a Saturday Night Special in his briefcase kind-of-guy." Litchfield was a good promoter with an "old school" style. "The Club was a happening place," said Whitey's grandson, "hosting acts like Frank Sinatra and even an event for Richard Nixon's failed 1962 gubernatorial campaign (my grandfather griped long after that Nixon never paid his bill)."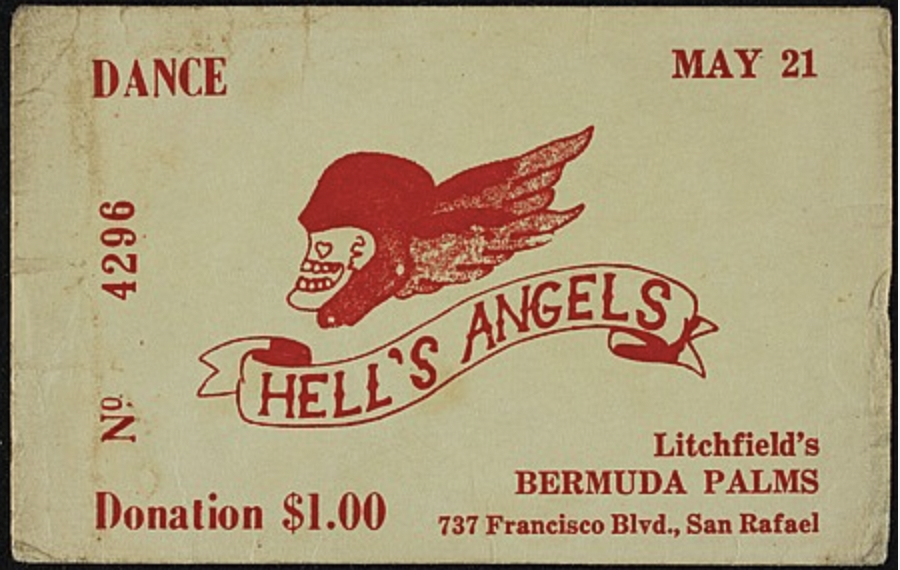 A Big Empty Room 
       In January 1970, owner Whitey Litchfield announced a new venture based in a former storage Quonset at 721 E. Francisco Blvd. He had recently remolded the building hoping "to host big name bands, entertainers, special functions and one-off events." He called the new music venue The Citadel. However, there is no record of any shows at this location under the Citadel name, only a burglary and vandalism of the club on December 11, 1969. Earlier in September, Litchfield had agreed to lease the space to John Shaw and Lawrence "Larry" Paul Samuels as a concert and civic events venue. Two fellow east coasters, Benjamin Blatt and Natan Shind, would operate the site. According to a July 1970 mention in Billboard magazine, "four independent backers are providing the funds to open the rock ballroom, which will not compete for audiences with Bill Graham's Fillmore West in San Francisco, some 12 miles away." They didn't know it then, but Graham's Fillmore would close less than a year later -eliminating the competition altogether. 
   According to Charlie Litchfield, "It (site) was an existing industrial Quonset used for storage by the Litchfield Construction company, and it was converted into a concert space. It used to extend all the way back to Front Street, so it was a 16,000-square-foot venue. Whitey cut the building in half in the late 70s/early 80s to build another section of (Bermuda Palms) motel on the back half of the lot."
    Big Brother and the Holding Company drummer Dave Getz recalls performing at one of the first shows in the "new" music venue. "I remember a show we did there that was put on by the Hell's Angels. The stage was rather low, there was an area behind the stage for bands and friends to hang out, and the room itself was pretty much just a big empty room with nothing architecturally interesting."
    Although the former Quonset at 721 E. Francisco may have been uninteresting, the Hell's Angels event was not. Sunday, May 21, 1970, was a far cry from the former Bermuda Palms club shows. The event was a fundraiser for the Bay Area chapter of the Hell's Angels and featured Bay Area performers Big Brother and the Holding Company, Gold, and Janis Joplin with her band Main Squeeze. Janis was asked to perform at the benefit by one of her Hell's Angels "friends" named Sweet William. Her former band, Big Brother, and her current band, Main Squeeze, were each booked. Before the show, Big Brother guitarist Sam Andrew said, "This will be the first time that Janis' old band and her new band will be at the same venue, so everyone is a little on edge." Andrew was right, as the scene was intense. Several "rent-a-cops" wandered through the crowd, and motorcycles lined the parking lots as attendees took over the surrounding neighborhood. The event had a coat check and a weapons check.
    Big Brother and the Holding Company drummer Dave Getz, shared a story about the Hell's Angels benefit at Pepperland from his upcoming memoir, Death of Janis. Getz writes: "Big Brother with Nick Gravenites singing, played before Janis and 'Main Squeeze' (a tentative name that was later changed to 'Full-Tilt Boogie'). During BBHC's set a girl took off all her clothes and jumped on stage, dancing around. A guy took off all his clothes and proceeded to try to go down on her while she was dancing around. No one tried to stop this and some bikers were banging pool cues and hands on the stage -which was only about two feet high- yelling for him to 'get it up' and fuck her. Nothing much happened, and at the end of the evening, I saw the two of them huddled together in a blanket, talking, possibly getting to know each other. Maybe they eventually married and had a family. While this was happening onstage, Janis was backstage prancing around like a Peacock with a couple of friends and a bottle of Jim Beam. A biker from another club -I was told he was a Gypsy Joker- said to Janis something like, 'Hey mama, gimme a taste of that' and reached for the bottle. She told him to 'Fuck off, man,' and he either slapped her or punched her in the face. I personally saw the black eye. The story I got from Janis was that two or three Angels immediately jumped on him and punched his lights out. When Janis came out on stage, she was a fucking mess, and her band was trying to find a way to sound coherent, being her rant went on for at least 20 minutes. She ranted about the events that had happened and was full of self-pity about how what had happened was the story of her life. Her set was awful. I know that's hard to believe but she knew it later and told me she knew it. To redeem herself, she had Big Brother open for her in San Diego a few months later when she was about one month clean, and her band had been touring -her act was smokin'. We sat next to each other on the plane back from San Diego. That was the last time I saw her." After Joplin's "performance" at the Hell's Angles event, the band helped her to a waiting car. Her roommate, Lyndall (Erb), had driven and did not find it unusual that Janis was upset that she'd been "punched around" or that "she'd gotten so drunk that she was unable to remember the performance. It has happened before," Erb shrugged. The Angels paid Joplin $240 for the gig and had officially christened "the big empty room."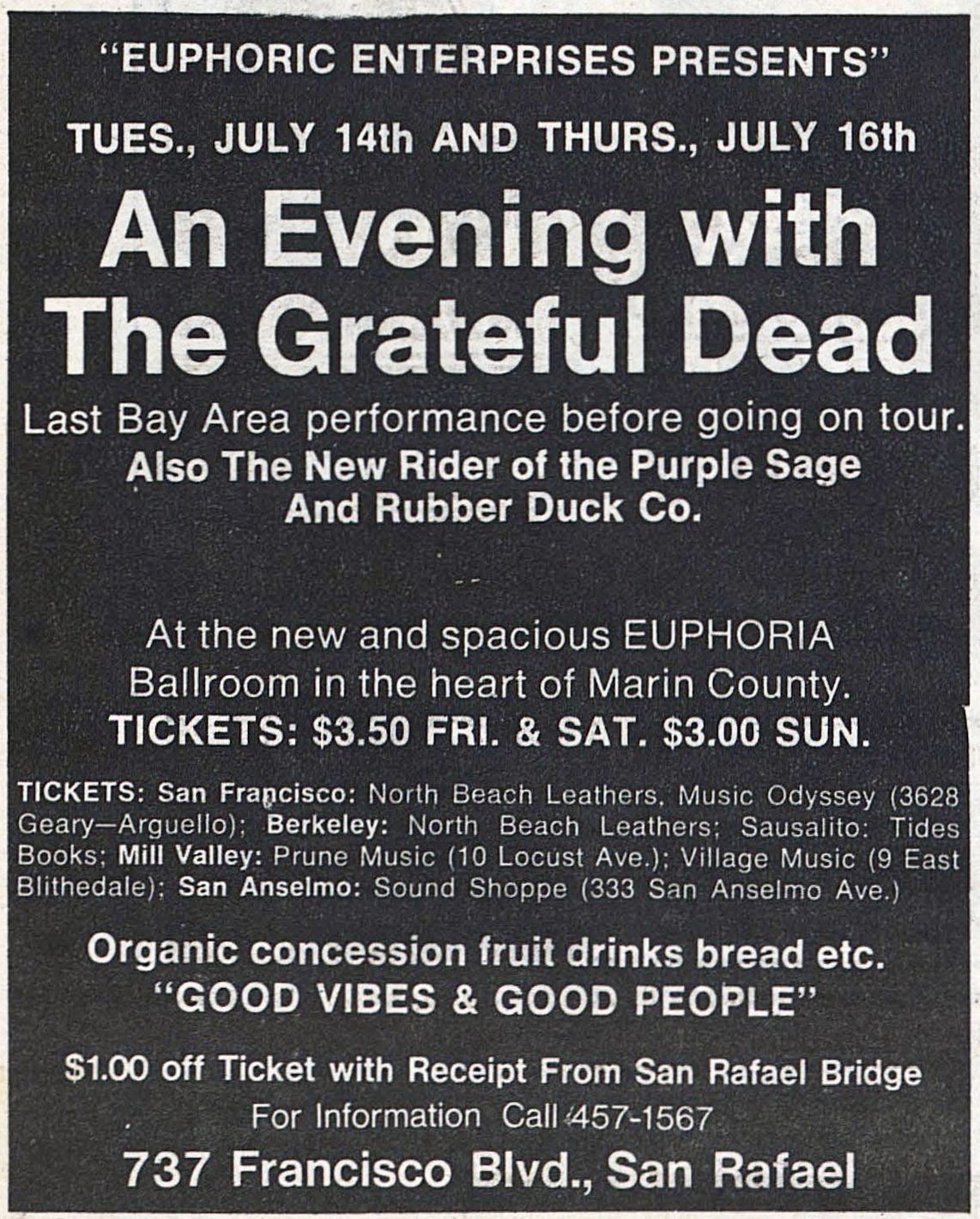 EUPHORIA 
         A month after the Hell's Angels fundraiser, the venue began operations as Euphoria, with shows presented by Euphoric Entertainment. The first lineup under the new name was Ike & Tina Turner, Boz Scaggs, and A.B. Skhy, who performed on Saturday, June 27, 1970. Shows by the Marin County group Clover and by Big Brother and the Holding Company on the first weekend of July helped spread the word about this "out of sight" new space in Marin booking great acts. The former Quonset at 721 E. Francisco quickly became a happening scene. Euphoria touted "organic foods" and "good people," with performances by Boz Scaggs, The Grateful Dead, and The Youngbloods during its three-month run from May to July 1970. Many local attendees recall Janis Joplin joining the Grateful Dead on July 16, and singing a sultry duet ("Turn On Your Lovelight") with Grateful Dead keyboardist Ron "Pigpen" McKernan -with whom Joplin had a romantic relationship. Most of this performance was captured on a bootleg recording that is still popular in the boot world. Joplin (who was living in nearby Larkspur at the time) would die from a drug overdose in Los Angeles less than three months later. You can hear McKernan and Joplin's original Pepperland bootleg HERE . 
       Events at 721 E. Francisco Blvd. were produced and presented over two-plus years by a handful of promoters, including Berkeley Folk Music Festival founder Barry Olivier, Skip Whitney of Fun Productions, and most notoriously by Larry Samuels and two East Coasters, Nat Shind, and Ben Blatt. "Two drug dealers from New York," says former Pepperland promoter Skip Whitney. "They did a number of shows. We took over from them (in Sept. 1971.) They eventually got into some pretty major trouble." 
      That trouble was a drug raid at the Bermuda Palms motel on June 30, 1970. The raid netted seven arrests, including club operators Nat Shind for marijuana possession, Larry Samuels for heroin, and Ben Blatt for battery on a police officer. The police also found and confiscated $15,000 in cash and charged each with being under the influence of narcotics. It was the first of many impediments the trio would face operating the club. "From the very beginning, it was like, is there going to be another show?" recalled Pepperland Stage Manager, Mapes Root. "I don't know how they funded it, but they had a source (laughs)… and it wasn't probably good. No question the money came from lord knows where!" 
       The venue closed for a remodel and rebranding at the end of July 1970. The "new" club was set to open on Labor Day Weekend 1970 with a bill featuring Deep Purple. However, the gig never happened. A week later, on September 18, 1970, 721 E. Francisco Blvd. officially opened as Pepperland.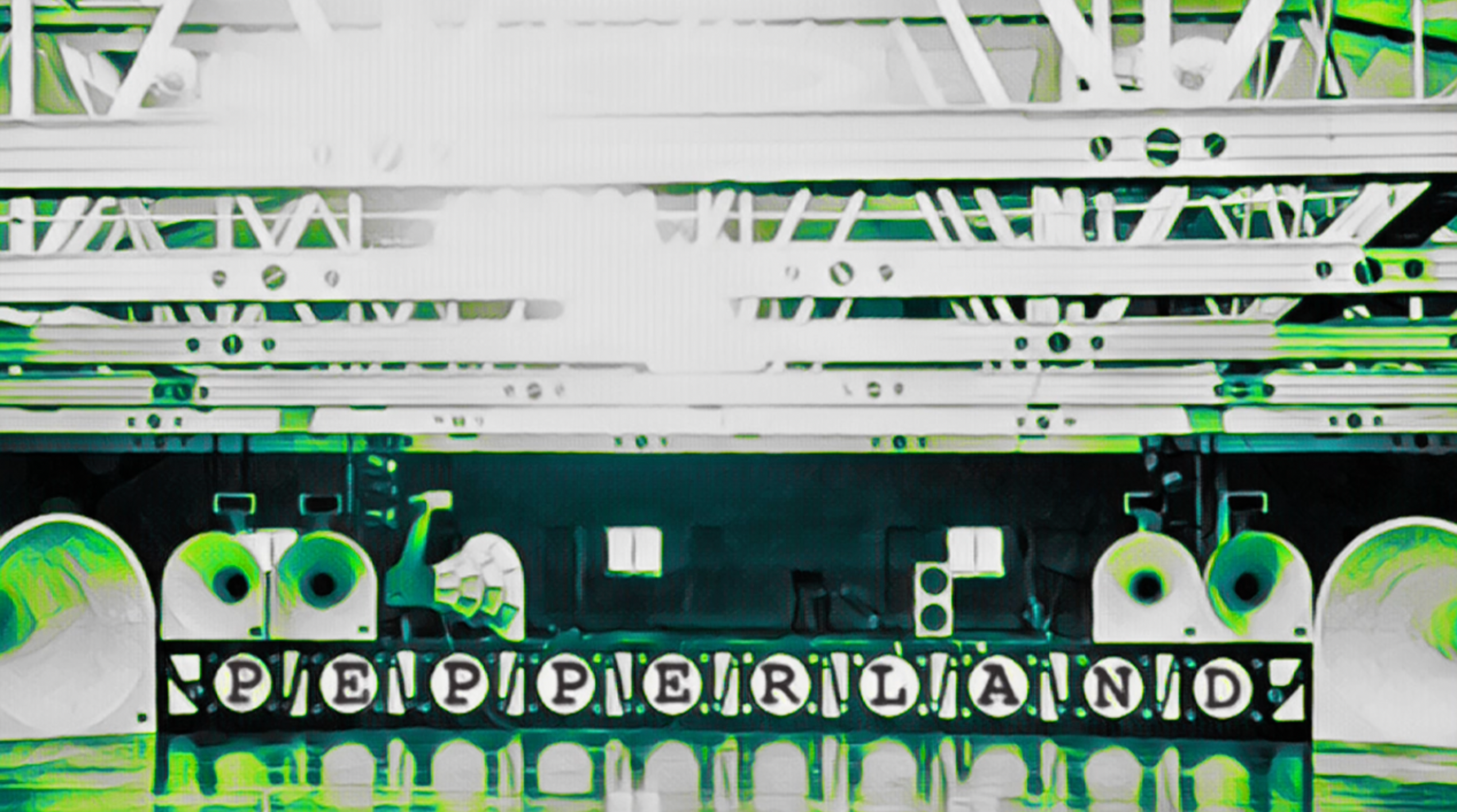 The Purple Palace 
       Pepperland was billed by proprietors Ben Blatt and Nat Shind as the "biggest ballroom on the West Coast" and as "Marin's First Rock Hall," both of which were untrue. The building was painted a loud (and locally controversial) purple color as the re-imagined club had an unapologetic Beatles Yellow Submarine influence. The venue featured a quadraphonic sound system developed by Meyer Sound founder John Meyer with giant molded fiberglass speaker cones big enough for diehards to sit in -and many did. In an interview with MixOnline magazine, John Meyer said he "started a company called Glyph to design and build sound reinforcement systems. Glyph's first installation was at Pepperland. It was a pure exponential horn-loaded bi-amped quadraphonic sound system. Each stack included a white fiberglass bass, mid-range, and high-frequency horns. The bass horns were huge, measuring 8×8 feet with 30-inch drivers." The system was big enough to fill Pepperland's giant interior (and most of the surrounding neighborhood) with sound. 
     Fitting with the "Yellow Submarine" influence, Pepperland's interior support girders were adorned with painted portholes mimicking those of a submarine. Although large, the performance space had low ceilings and poor ventilation, with cigarette and pot smoke dominating the air. According to Pepperland Stage Manager Mapes Root, "The place was not a good set-up for music. It had concrete floors throughout, and the exposed rafters in the ceiling… not a good place for sound. But man, what incredible shows! Just incredible acts." Root had toured with the Johnny Winter Group after working at Woodstock less than a year before being hired by Blatt and Shind to become stage manager at Pepperland. "I worked on the stage at Woodstock. Friday night, the crew they hired got stoned on acid and couldn't go on, so I worked the whole weekend. I met the road manager for the Johnny Winter Group and toured with them for a while. Then I drove cabs in New York, saved some money, and moved to Lagunitas (Marin County). I met these two guys from New York (Blatt & Shind), and I told them about my experience at Woodstock, and they said you can be our stage manager!" 
      Whether there was ever competition for artists or not, the roster of performers at Pepperland was entirely on par with that of Bill Graham's Fillmore Auditorium in San Francisco. Many artists that played at Graham's Fillmore West also played at Pepperland, and a couple of groups Graham "managed" (including Lydia Pense and Cold Blood) began playing Pepperland after the closure of Fillmore West. "I don't think Bill had any official association with Pepperland, though. He had Winterland (Ballroom) and other things still going on," recalls Cold Blood management and one-time Fillmore Stage Manager Charlie Ellicott. "I was out of there by that time anyway. Things were really changing in the city, and it got more violent and dark. I moved up north." 
     Pepperland's September 18th opening night lineup included Captain Beefheart, Charles Lloyd, and San Francisco staples Hot Tuna (featuring Jefferson Airplane members Jack Casady, Jorma Kaukonen, Marty Balin & Papa John Creach -who had played Woodstock just a year before). It also happened to be the day Jimi Hendrix died in London. The music world was in shock. Hendrix fan Steve Miller showed up to Pepperland that night unannounced and played a tribute to the 27-year-old musician. Miller's performance at Pepperland was captured on a bootleg recording and later released in 2020 as Peppa Sauce (Sailor Records / Capitol Records). HEAR it HERE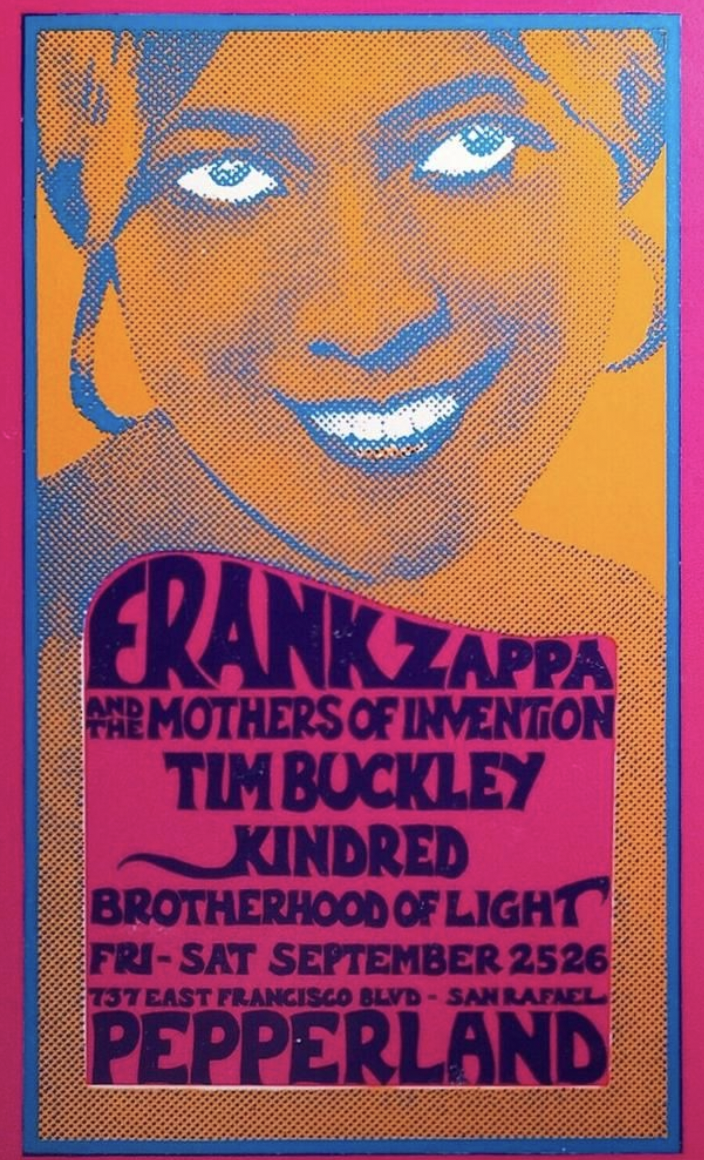 The Scene 
        Pepperland bills usually featured at least three artists, and shows often lasted until the wee hours of the morning. Monday nights were only a dollar, and most shows were all ages. From September 1970 until mid-1971, the performance space was enhanced by the Brotherhood of Light (BOL) shows led by Bob Pullum. Pullum had produced light shows for many notable San Francisco venues in the late 1960s, including the Avalon Ballroom, Carousel Ballroom, and Bill Graham's Fillmore and Winterland Ballrooms. Pullum came to Pepperland after the Fillmore West closed.  
      Pullum recalled those days in a 2002 interview with Pooters Psychedelic Shack, "In the late spring of 1970, my (BOL) partners, Brian and Ed, had left, and Bill Graham was talking about shutting down (the Fillmore). I took an offer to do the light show at Pepperland in San Rafael with the promise of complete creative control. We had great shows there." Pulllums' Brotherhood of Light shows splashed Pepperland's relatively small stage and exposed ceiling, adding some much-needed ambiance to the former construction Quonset. 
       According to a review of Pepperland's first night printed in the September 25, 1970 issue of the underground newspaper Berkeley Tribe, "the new concert-dance hall has a 5000 (person) capacity. The place is reminiscent of the Fillmore, including a light show by people (Brotherhood of Light) from Bill Graham's Fillmore West." Bill Graham was also at Pepperland that evening, hanging "in the back with the performers, groupies, etc." As for the new club itself, the reviewer noted it had "a snack bar that serves organic foods, peanut butter and banana sandwiches, organic juices, cucumber sandwiches; an $18,000 quadraphonic sound system and remote controlled lights revolving in circles around the walls." Although he was not on the bill, Steve Miller and his new group opened the show, paying tribute to guitarist Jimi Hendrix. The Berkeley Tribe review stated, "Miller is now playing with ex-members of the old Frumious Bandersnatch, and they haven't quite got it together yet. The harmonies are weak, the music is sloppy, and at this time, the entire thing just isn't together. Miller had a few good moments of his own, but the rest of the band wasn't cutting it." Less than three years later, the "rest of the band" would get it together as founding members of the group Journey. 
      The remainder of the opening night featured performances by Charles Lloyd, followed by Bay Area favorites Captain Beefheart and Hot Tuna. The reviewer noted, "Security was running through the crowd keeping the people out of the doorways and booting those without tickets. It was very crowded. Very hot. Several people on intense trips had to leave. Greed, shadiness, and contempt for the people who pay to support all this have made it all but impossible to feel at home in places like the Fillmore (East and West) as well as their bastard offspring like Pepperland. It's a social event. But no one gets it on. No one dances; there is very little motion. All you can do is sit down or lie down and listen. As far as the people at Pepperland go, they're nice. Marin freaks. So are the people who work there. You can rap to them. They listen and understand… and care about people, or at least they say they do."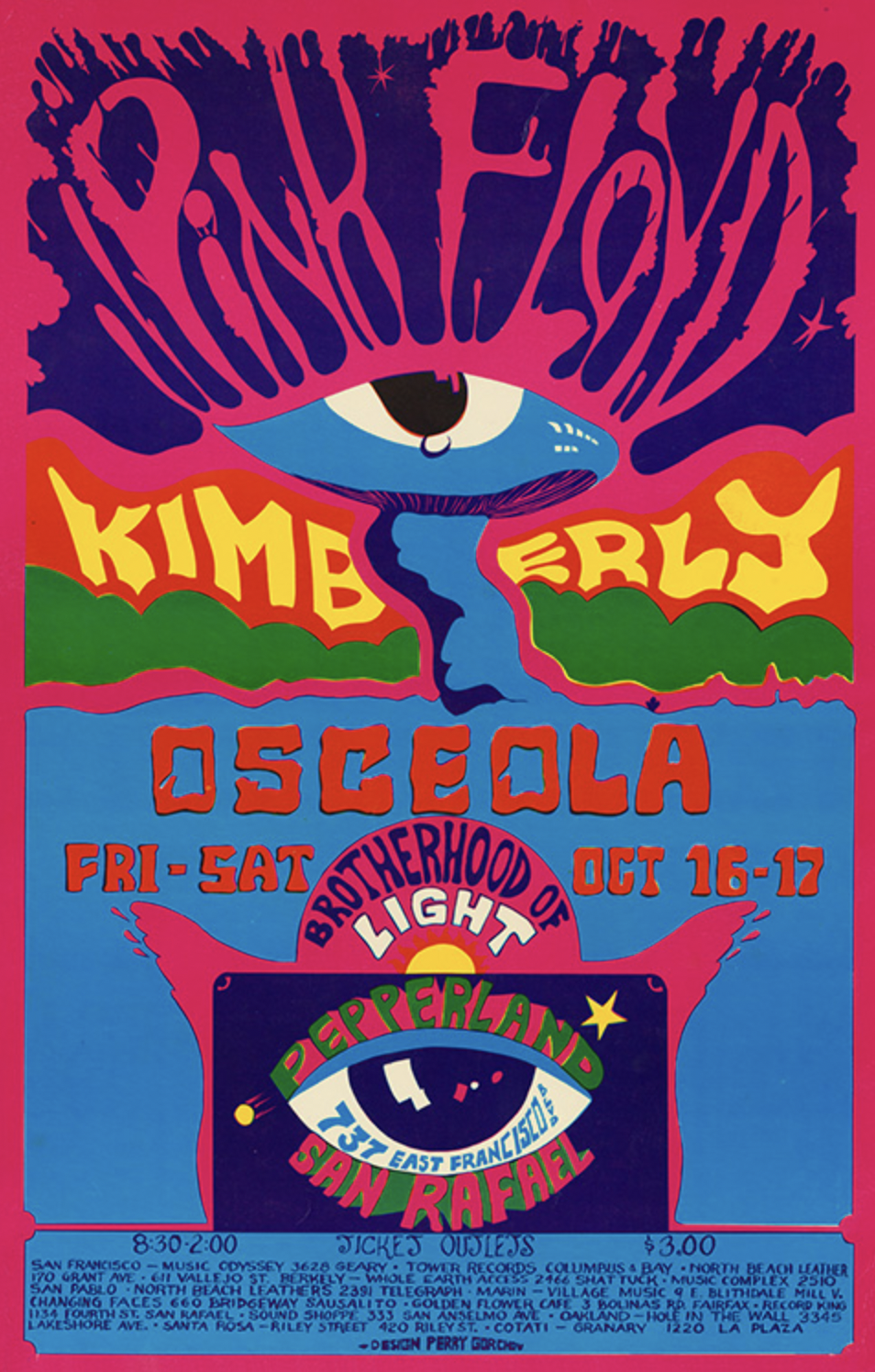 Sigh of Relief        
      
         Despite the lukewarm review of Pepperland's official launch in the Berkeley Tribe, the show was a success, and the club was drawing people and big-name acts. The following weekend (Sept. 25&26, 1970) Frank Zappa and the Mothers of Invention performed as part of their 'reunion' tour. The set was recorded and later released in 2020 as a part of the Mothers 1970 cd box-set commemorating the 50th anniversary of the 1970 Mothers (Zappa Records / Universal Music). Two weeks later, on October 16 & 17, 1970, Pink Floyd performed two somewhat sparsely attended but highly memorable shows. Certainly well-regarded by those lucky enough to see it. "Pink Floyd. Wow! Man, I was there!" Pepperland stage manager Mapes Root recalled proudly. "Incredible show!" -and Roots' sentiment is shared by many. 
      "I went to both Pink Floyd's Pepperland shows on Oct.16 & 17, 1970, and I still remember to this day how awesome the whole experience was!" attendee Ezra B. Eddy IV wrtoe in 2022. "It's hard to believe that it didn't last longer than it did!! The whole submarine effect was really well done!!! And those speakers were fantastic; it was like an "Alice in Wonderland "experience come to life!!!!" 
       The Pink Floyd performance is among the most celebrated in Pepperland's history. The venue's low stage was too small to accommodate the groups' massive gear, which was largely set up on the dance floor. Pullum and The Brotherhood of Light projected fish-eye photos of farm animals at the painted portholes on the walls in reference to the Atom Heart Mother album released a few days before -Pink Floyds' first #1(U.K.) album. An estimated 500 people, primarily teenagers, attended the first of the two-night performances. 
      "My girlfriend and I drove up from Palo Alto to see Pink Floyd," shared an anonymous attendee. "Pink Floyd was set up against the back wall, opposite the entrance, on a very low riser. The floors and exposed metal rafters reminded me of a roller rink I used to go to as a kid. There were slide projectors up in the metal rafters projecting fish-eye photos of farm animals. Keyboardist (Richard Wright) had a joystick that he used to swirl his synth and other sounds around the room or have them rip through the room, front to back, to great effect. The big Glyph horns were set up in the corners, and there were Shure vocal columns set up every 20 feet or so along the walls in between. There were no more than 500 people sitting on the floor in the center, with some folks sitting up inside the big Glyph bottom horns!" 
       The first night of Floyd's two-night engagement became well-known for the group's brilliant performance and also for its technical difficulties. In the weeks leading up to the Floyd shows the venue had been having some issues "blowing fuses." The weekend before the show, Pepperland was shut down to "get everything together" and give electricians time to "rewire the stage." But to no avail. Pink Floyd's massive set-up taxed the venue's power supply to four power failures during the group's opening song, "Astronomy Domine", ultimately taking the group nearly twenty minutes to complete. Another failure on the finale of the two-hour show forced the band to re-play the ending of the song for the recording. The entire performance, including the power failures, was recorded using a single-point stereo microphone about ten rows from the stage. All of this can be heard on a two-hour bootleg of the show officially released as a 2-CD set in 1998 called Pepperland in the West (Highland Records). Listen HERE
      Concert-goer Richard Gillen recalled the two nights, writing, "Just as the Floyd were finishing the last song, the P.A. power failed! The band was as shocked as we were in the audience. After anger and groping around, they finished with what you hear at the end of the recording. I brought friends to the next night, and you could see Roger Waters just cringing as they hit the last notes. Thankfully, the power held up, and we all breathed a sigh of relief."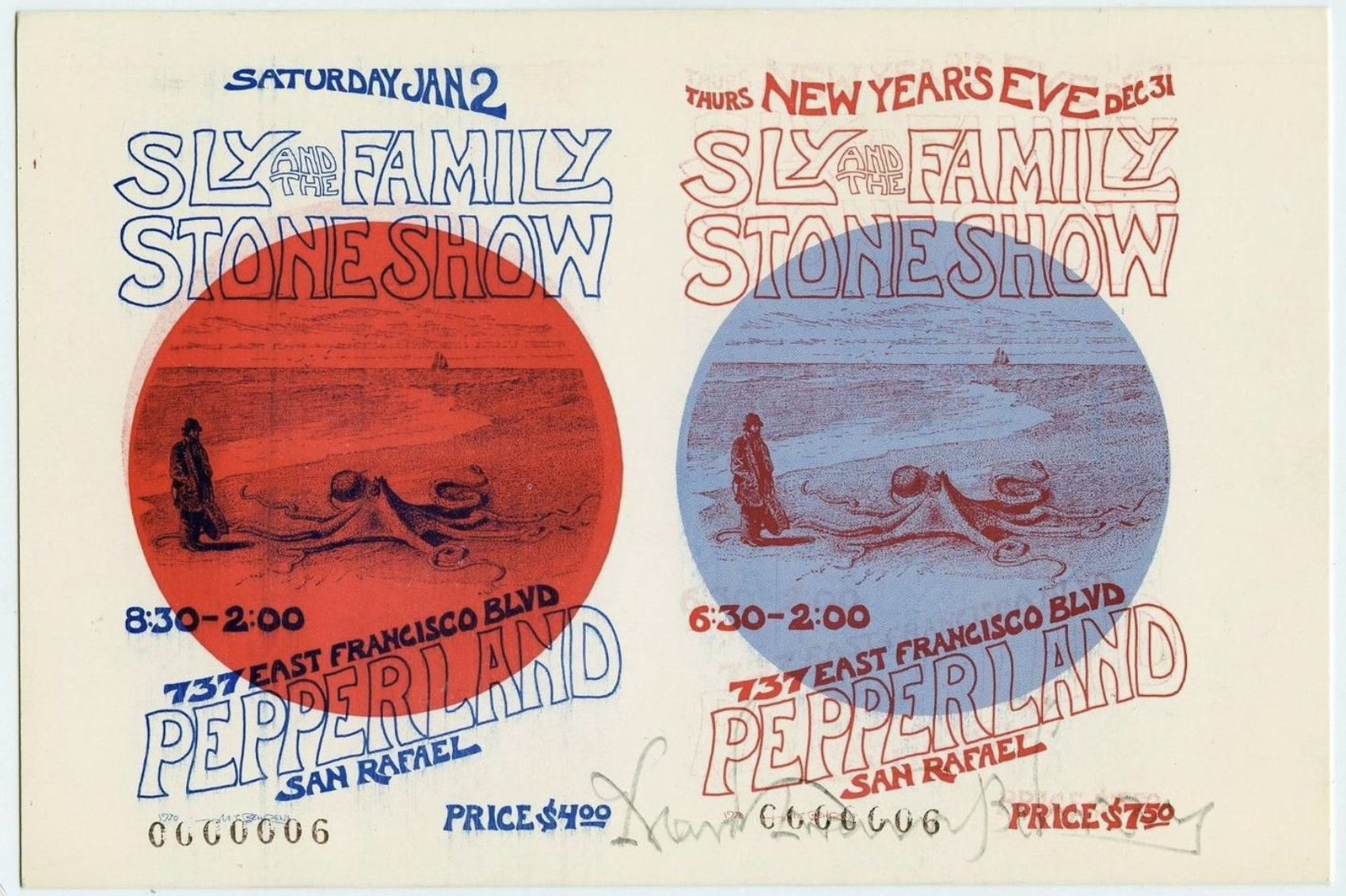 Pot Problem? What, pot problem? 
       The last four months of 1970 earned Pepperland the moniker Woodstock West in more ways than one. Accusations of open and frequent drug use at the venue caught the attention of city leaders, and promoters Ben Blatt and Nat Shind were under constant pressure to toe the line from local officials. On one occasion, San Rafael City Councilman Harry Barbier falsely claimed he was a fire marshall upon barging into the Pepperland and threatening to put the rock hall and the Bermuda Palms "out of business," later stating, "it ought to be closed. They're all smoking pot down there!" San Rafael Mayor Paul Bettini said that the "purple-painted building had drawn more complaints than any other item" in his time as mayor. City council meetings turned contentious with continued accusations towards the promoters of catering to large crowds of underage dope smokers getting high. The San Rafael city building inspector declared the venue's legal capacity to be "only 1,850," although shows often drew more than 2,000. Pepperland's attorney Daniel Weinstein fired back, accusing city leaders of not doing enough to give young people a place to go and keep them "off the streets." Meanwhile, memorable performances by Joan Baez, Hot Tuna, Incredible String Band, Leon Russell, and The Grateful Dead with David Crosby filled Pepperland with high-schoolers "jammed together, sitting on the floor smoking marijuana and hashish openly," giving all the rumors and accusations credibly.      
     
    The Joan Baez shows on Sunday, December 20, 1970, were one of Pepperland's most successful events. Baez performed two one-hour shows at 7:p.m. and 9 p.m., billed as "an hour with Joan Baez." The founder and director of the Berkeley Folk Music Festival, established in 1958, Barry Olivier served as show producer. Olivier also promoted a pair of Muddy Waters and Big Momma Thornton shows at Pepperland and Berkeley Theater in April 1972. Records show "Folklore Productions" produced the Baez shows in an agreement documented between Olivier and Shind, with Olivier having rented Pepperland for $500 plus $250 to cover staff and crew, including coat check, security, and program salespeople who earned %20 on every program they sold. 
   
    Neither the cold December rain nor a bomb threat could keep people away from the heavily advertised Baez performance; the line for each show reportedly went around the block, and parking was "as bad as Kezar" (Stadium, San Francisco). The shows opened with a popular Sonoma County country-rock group called Frontier. The combined performances drew nearly 7,000 concert-goers, well above the city-stated capacity of 1,850 per show, and markedly better than the Chuck Berry show two nights earlier, -which saw less than 1,000 attendees. Police later reported that around 9:25 p.m. a male caller had phoned Pepperland and stated, "There's a bomb set to go off in Pepperland at 10 o'clock; we don't dig Joan Baez around here." Pepperland security, led by Nathaniel Weathers, had quietly but intensively searched the building, the crowd, and the grounds for over an hour and found nothing. No one at the show even knew. 
     
    The next night, December 21, was advertised on the Pepperland marque as "Acoustic Dead Jam," but it turned out to be an electrified Jerry Garcia, Phil Lesh, and Bill Kreutzmann backing up David Crosby. Numerous other Bay Area artists, including New Riders of the Purple Sage, joined the mostly electric jam. While the Grateful Dead (whose rehearsal space on Front Street was directly behind the Bermuda Palms) played at 721 E. Francisco Blvd. when it was known as Euphoria, this is the only known time the Dead performed at "Pepperland." 
   
    Pepperland finished 1970 (having been repainted from "passionate purple" to "subdued gold") by hosting a New Year's Eve show with one of the hottest acts in music at that moment, Sly and the Family Stone. The Bay Area funk group was just a year out from their triumphant performance at Woodstock. The night drew a great crowd, but they waited. And waited… and waited. "Sly didn't even go onstage until at least 2:30 a.m.," Mapes Root recalled. "But people stayed around. He was so coked up, high out of his mind."  The 1970 News Years Eve show finally began two and a half hours into 1971. It was a fitting end to a year that saw many highs for Pepperland.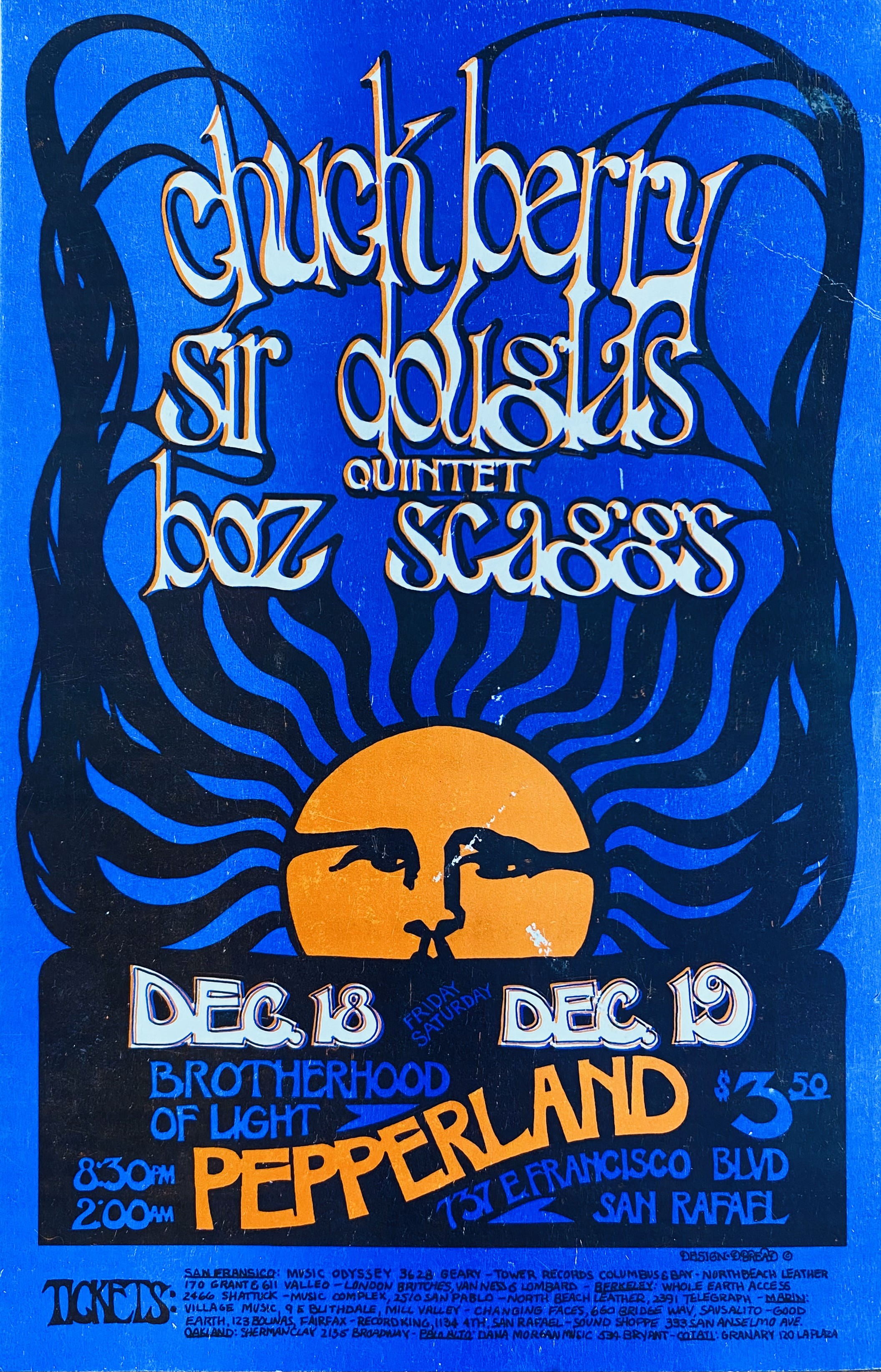 Good Music, Bad Business 
         1971 would see a slew of great artists perform at Pepperland, coupled with a slew of problems leading to the club's demise. KSAN-FM San Francisco recorded The Youngbloods' live set on January 22, which was remastered and later released on a double CD in 2016 as Live at Pepperland, California '71 (Keyhole Label). Taj Mahal, Tower of Power, John Lee Hooker, Sons of Champlin, Spencer Davis, and Steve Miller were just a few of the fifty different acts who performed at Pepperland in 1971. The creative side certainly attracted the best. However, the business end suffered from inconsistent scheduling with shows often losing money.
    According to Charlie Kelly, (a 42-year roadie for the San Francisco psychedelic group Sons of Champlin), "When I collected the money for a 'Sons show there, the two (promoters Blatt & Shind) who were losing tons of money, got into the kind of drug-fueled argument that made you want to get out of the building before one of them found a gun." In April 1971, after continued financial, legal, and political pressures became too much, Sameuls, Blatt, and Shind skipped town. According to stage manager Mapes Root, "they were always just skating by and finally run off with the money after a show." On April 13, 1971, local papers reported, "Shind and Blatt had disappeared following their last show two weeks ago." Whitey Litchfield admitted, "The handwriting was on the wall. Bills have been mounting for months and they never paid on the lease. They were harassed with stringent regulations by the city council, and the police chased them out of town. They had no money to live up to their promises." Blatt and Shind (who had been living in Sebastopol after moving from Novato), had already dropped out by the time word hit the press, leaving behind a reported $50,000 in unpaid expenses. The club, considered "out of sight" by local youth, was now out of money. Following a benefit show for Native Americans on April 11, 1970, featuring Hot Tuna, Quicksilver Messenger Service, and Lizard, Pepperland would lie dormant for nearly five months.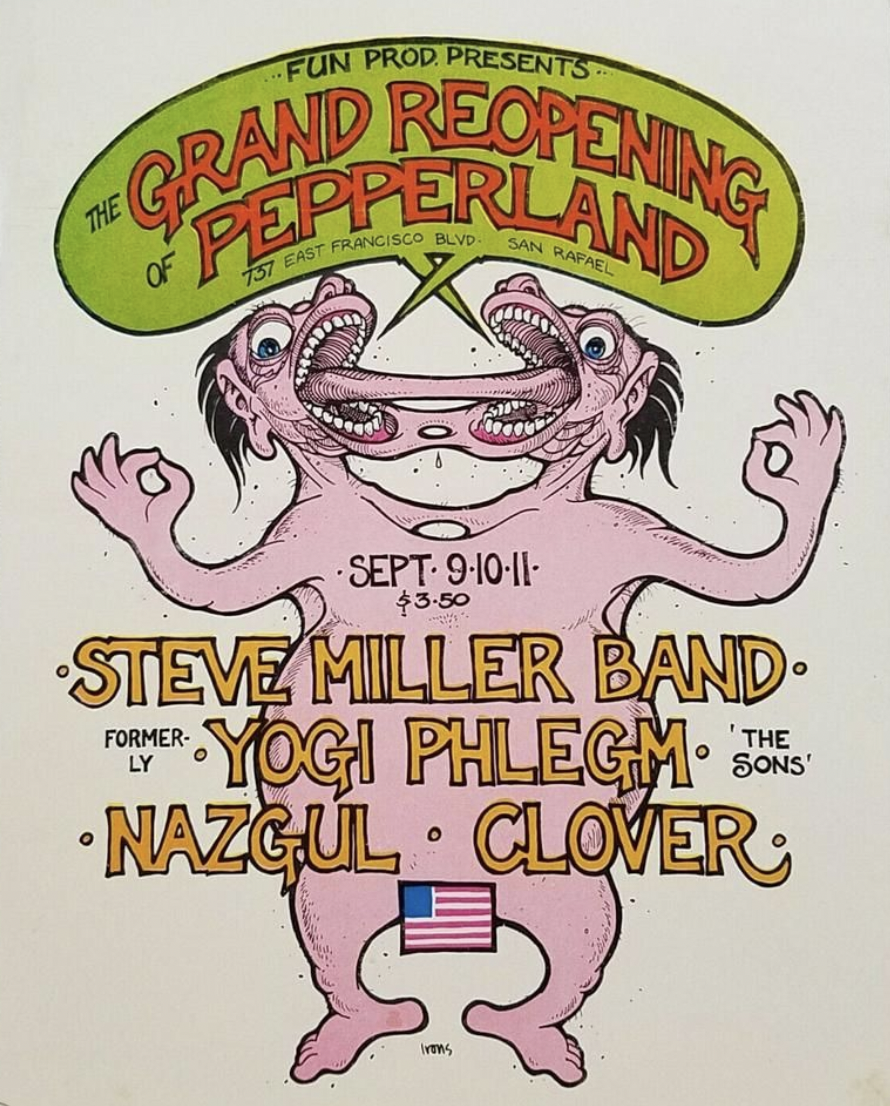 Pepperland 2.0
     Pepperland held a "Grand Re-Opening" on the weekend of September 9/10/11, 1971. Opening night was headlined by The Steve Miller Band and the former Sons of Champlin (billed as 'Yogi Phlegm'), alongside local groups Nazgul and Clover, led by vocalist / guitarist Alex Call. Clover first played at 721 E. Francisco when it was still known as Euphoria, and ultimately performed at the venue more than any other artist -sharing bills with Linda Ronstadt, Big Brother and The Holding Company, Elvin Bishop, Cold Blood and Leon Russell, among others. "Some things I see clearly and other things are like the Viking sagas which weren't written down," described Call. Alex would later help write songs for Huey Lewis and the News, Pat Benatar, and Tommy Tutone's 1981 hit "867-5309/Jenny."
     "Clover was hot right then, I think we were still pre-Huey (Lewis). We had legions of Marin high school fans, who showed up in droves that night. We blew Steve Miller off the stage, but he put us in our place a couple days later by bringing us to his office in San Francisco and showing us his national tour map and room full of guitars -we had niether."
      Clover performed again two weeks later with Mike Bloomfield, Stoneground, and Mike Finnegan; a well-regarded two-night engagement. Fun Productions presented both events under promoter Skip Whitney. Whitney had managed to retain some of the original employees, and the Brotherhood of Light show. "We took over after them (Blatt & Shind). Pepperland 2.0. It was such a cool time in Marin. We were booking great shows, but  my business partner ran out of money," and later promoters were unable to maintain what Whitney had continued. Even booking renowned artists Linda Ronstadt, Muddy Waters, Big Momma Thorton, and Van Morrison wasn't enough to save the club, as the venue presented just over a dozen shows in 1972 under various promoters. The questionable activity of former promoters Blatt and Shind had soiled the reputation of Pepperland in the eyes of a vocal group of city officials. The Marin Performing Arts Guild suggested a partnership with the Marin County Supervisors to revive the concert hall in late 1972, but the county was tired of the  "nuisance" and ultimately declined. Heavy flooding in Marin County during January of 1973 caused some damage to Pepperland -ruining flooring and rugs. The club limped along before unceremoniously closing for good in early 1973, becoming a Carpet King Remnants store later that year. The original building, with its incredible #musichistory still stands today at 721 E. Francisco Boulevard in San Rafael, California.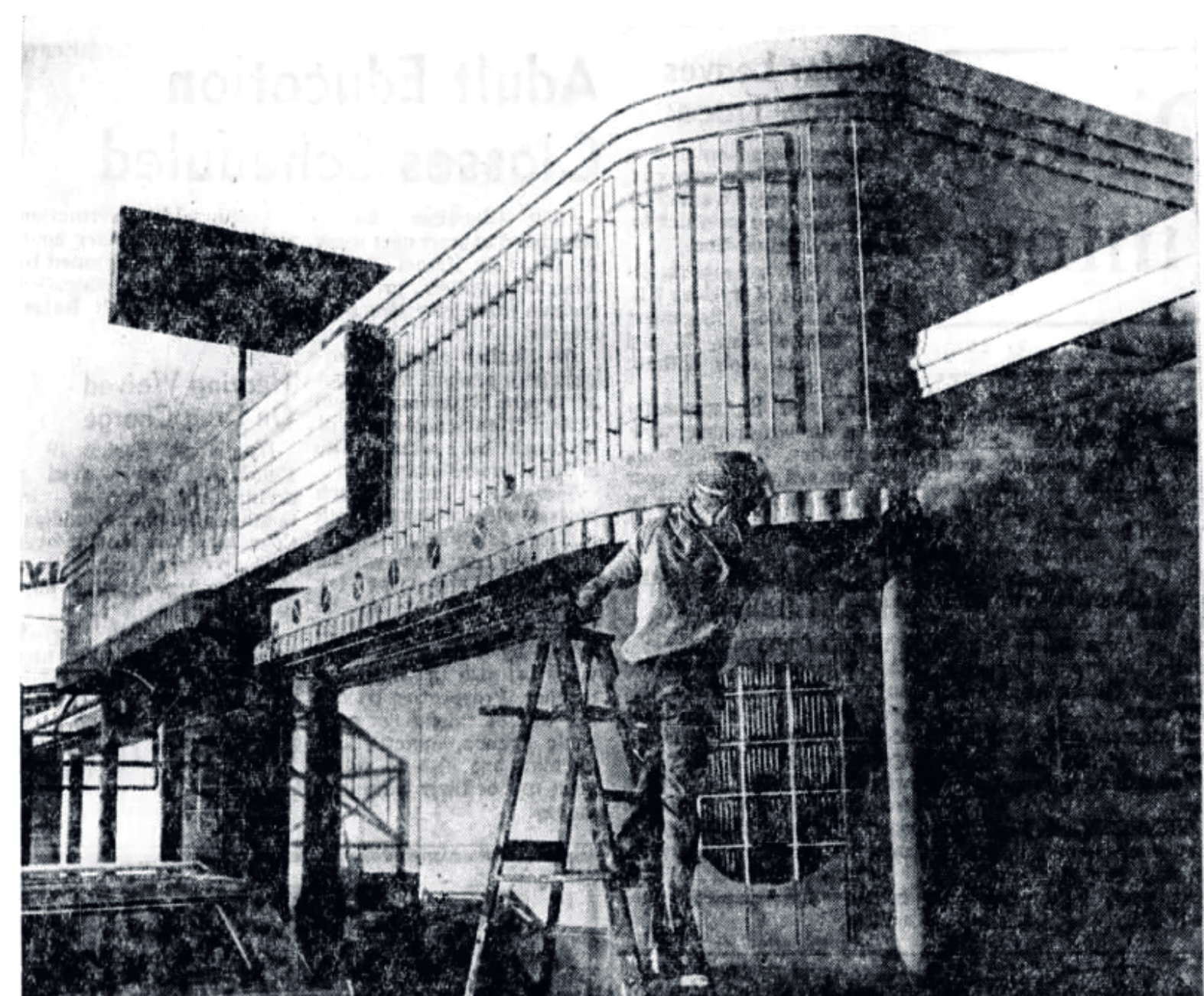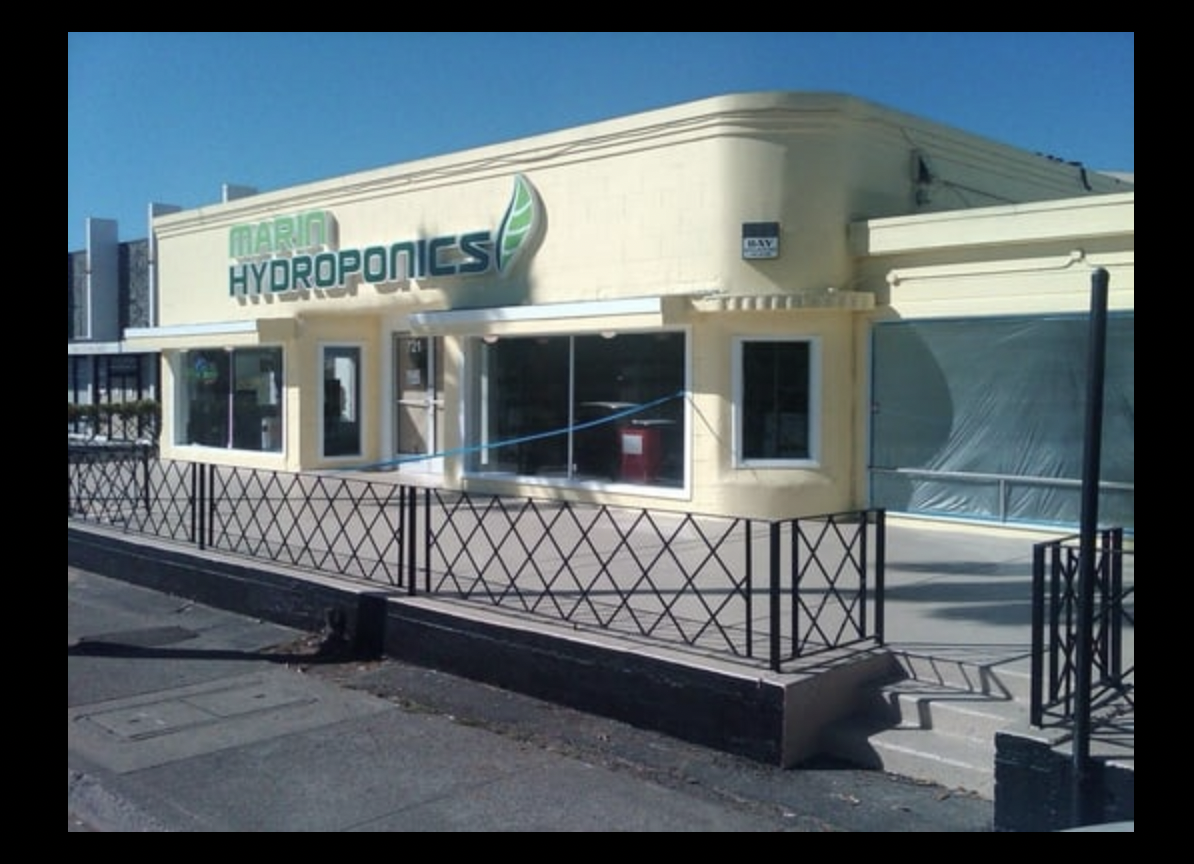 Pepperland : Woodstock West - Short Music Documentary 
🏅OFFICIAL SELECTION Lift-Off Global Network Filmmaker Sessions - Short Film Content, 2023
Review
 
Comprehensive list of shows at 721 E. Francisco Blvd in San Rafael, California.
Note: A number of shows were tentatively booked but never took place. Some were even advertised or published as "upcoming." We have noted where appropriate.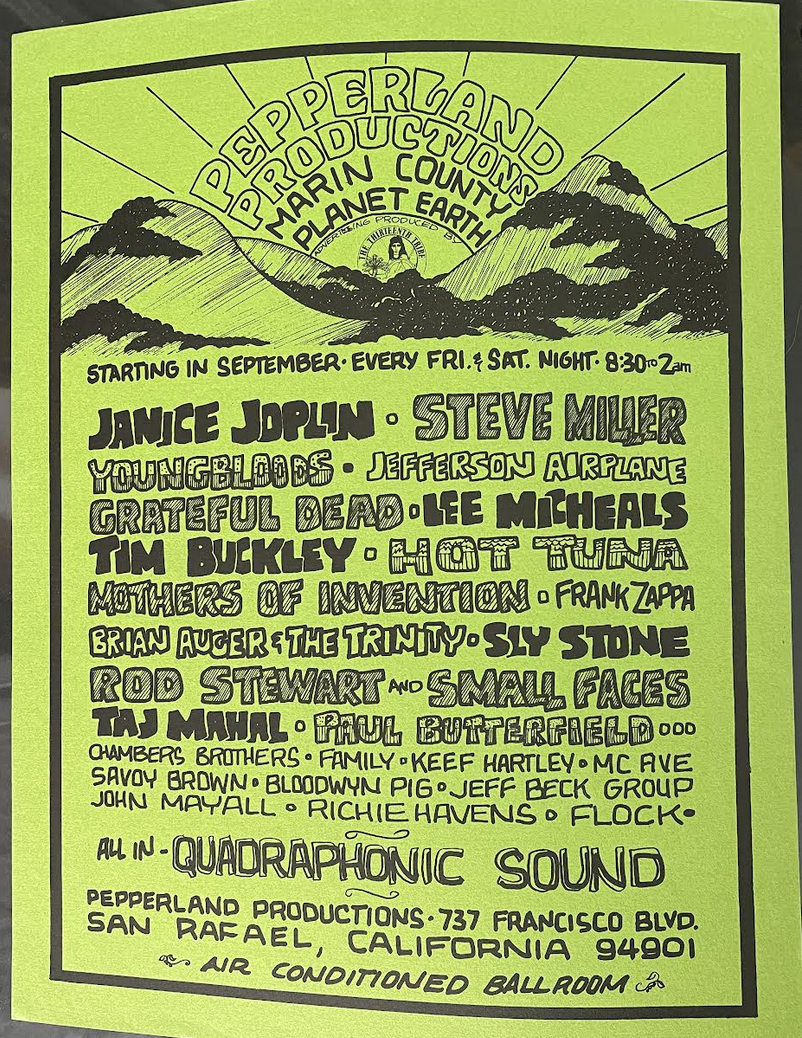 1970      
May 21 - (Bermuda Palms) Hell's Angels party - Big Brother & the Holding Company / Janis Joplin / Full Tilt Boogie (billed as Main Squeeze / Gold. 
June 27 - (Euphoria) Ike & Tina Turner / Boz Scaggs /A.B. Skhy  -(advertised someplace as 6/23 w/ Boz & Southern Comfort)
June 27 & 28 - (Euphoria) Clover / Flying Circus / Mendelbaum -(UNCONFIRMED IF BOTH NIGHTS TOOK PLACE) 
JULY 3,4,5 - (Euphoria) Big Brother and the Holding Company / A.B. Skhy / Joy of Cooking 
July 14 & 16 - (Euphoria) Grateful Dead / The New Riders of Purple Sage, /Rubber Duck  -(Janis and Pigpen show)
July 17-19 - (Euphoria) The Youngbloods / Country Weather / Lambert / Nuttycomb
July 20 - (Euphoria) Country Joe and the Fish / Southern Comfort  -(PROBABLY DID NOT TAKE PLACE) 
July 22 - Marin Music Benefit -  Osceola / Ofoedian Den / Beefy Red / Great Blurble's Gumshoe / Mattress and Toothpick Company / Bronze Hog
July 24,25,26 (Euphoria) The Chambers Brothers / Boz Scaggs / Southern Comfort  -(DID NOT TAKE PLACE) 
Remodel Aug-mid Sept - Reopening as Pepperland - First Brotherhood Of Light show 9/18
Sept. 18 - Hot Tuna / Captain Beefheart / Charles Lloyd  -(Hendrix died - Steve Miller opens show, plays tribute.) 
Sept. 19 - Hot Tuna / Captain Beefheart / Charles Lloyd
Sept. 25&26 - Frank Zappa / Tim Buckley / The Mothers of Invention / Kindred  - (recordings on Mothers 70 box set)
Oct. 16&17 - Pink Floyd / Kimberly / Osceola  -(PF set up equip on dance floor recorded released as Pepperland in the West))
Oct. 24&25 - Steve Miller / Jerry Hahn / Dan Hicks & Hot Licks 
Nov. 13&14 - Incredible String Band / Doug Kershaw / Joy of Cooking 
Nov. 27&28 - Leon Russell / Captain Beefheart & His Magic Band / Clover / Truk
Dec. 18&19 - Chuck Berry / Sir Douglas Quintet / Boz Scaggs
Dec. 20 - Joan Baez / Frontier  -(2 shows)
Dec. 21 - "David and the Dorks" David Crosby / Jerry Garcia / Phil Lesh / Bill Kreutzmann /  
  John Kahn / Terry Haggerty / Bill Bowen / New Riders of the Purple Sage (with Spencer Dryden on drums)
  Jerry Hahn Brotherhood / Howard Wales and Friends  -(Billed as "Acoustic Dead")
Dec. 31 - Sly & The Family Stone / Little Sister / Aum / Country Weather  -(New Years Eve 1970)
1971 
Jan. 2 - Sly & The Family Stone / Little Sister / Six / Joe Hicks / Rubber Band 
Jan. 22&23- The Youngbloods / John Fahey / Sea Train   -(1/22 set recorded by KSAN-FM and released 2016)
Jan. 29&30 - Stoneground / Cold Blood / Boz Scaggs
Feb. 5&6 - Elvin Bishop / PG&E / Tower of Power 
Feb. 20&21 - Big Brother & The Holding Company / The Sons (of Champlin) / Clover 
Feb. 26&27 - Spencer Davis / Peter Jameson / Dan Hicks & Hot Licks / Country Weather 
Feb. 26&27 - Jack Bruce & Tony Williams Lifetime  -(NOT CONFIRMED Show was Advertised show but did it happen?)
Mar. 5&6 - Steve Miller / John Lee Hooker / Bronze Hog 
Mar. 12&13 - Lee Michaels / Joy of Cooking / Fourth Way
Mar. 19&20 - It's a Beautiful Day / Odetta / Victoria 
April 2,3,4 - Taj Mahal / Lamb / Grootna  / 4/2&3 Leon Russell  / 4/4 Boz Scaggs
April 11 - Hot Tuna / Quicksilver Messenger Service / Lizard  -(Native American Benefit -Last N Brotherhood of Light show)
PEPPERLAND "closes" for 5 months after promoters split with the $. Grand - Reopening  Sept. 9/10/11
Sept. 9,10,11 - Steve Miller / Yogi Phlegm / Nazgul, / Clover  -("Grand Re-Opening"  under new promoters Fun Productions)
Sept. 24&25 - Mike Bloomfield / Mike Finnegan / Stoneground (fri only) / Clover (sat only) 
Oct. 31 - Osceola /  Brother Music  -(Halloween Costume Ball )
Nov. 13 - Tower of Power / Cold Blood / Norman Greenbaum / Gold 
Dec. 4 - Boz Scaggs / Earthquake / Staton Bros. 
Dec. 11 - Joy of Cooking / Commander Cody / Crossfire 
1972       
Jan. 22 Tower of Power / Redwing / Roger Collins 
Feb. 19 - (Bermuda Palms) Hot Tuna / Osceola / Stoneground 
Feb. 19 - G.S. Sachdev  -(indian flutist classical ragas concert )
Mar. 3 - Little John / Bootleg / SLO Loris 
Mar. 11 - Linda Ronstadt / Clover / Little John, / Chris Darrow
April 9 - Clover / Alice Stuart and Sanke /Frank Biner Band / Wiffen Puff / Besty Chapman and Rita Abrams -(Voter Registration Hyde Park)
April 29 - Muddy Waters / Big Momma Thorton 
June 3 - Youngbloods / Joy of Cooking  -("Dig It" Benefit Sen. George McGovern Dem Pres Primary)
June 16&17 - Taj Mahal (@ Bermuda Palms "next to Pepperland)
Nov.17 - (Bermuda Palms) Van Morrison / maybe Logos?  / maybe Rowan Brothers?
Dec. 1&2 - Harmonica Rascals / Clover / Sensations 
Dec. 31 - Hot Tuna / Commander Cody / Stoneground / maybe One (semi-private Grunt Records via select record stores, FM ads. Oversold. )
1973      
Feb. 9 - Elvin Bishop / Cold Blood / Clover -(Fred Searls & Western States Shows)
June 1 - Joy of Cooking / Nick Gravenites / Blue Gravy / Clover / Topaz / Wavy Gravy -(for 'Sausalito Is Spring Ball' benefit)
Oct. 31 - (Bermuda Palms) Stoneground / Shadowfax / Wicca / guest MC Congress of Wonders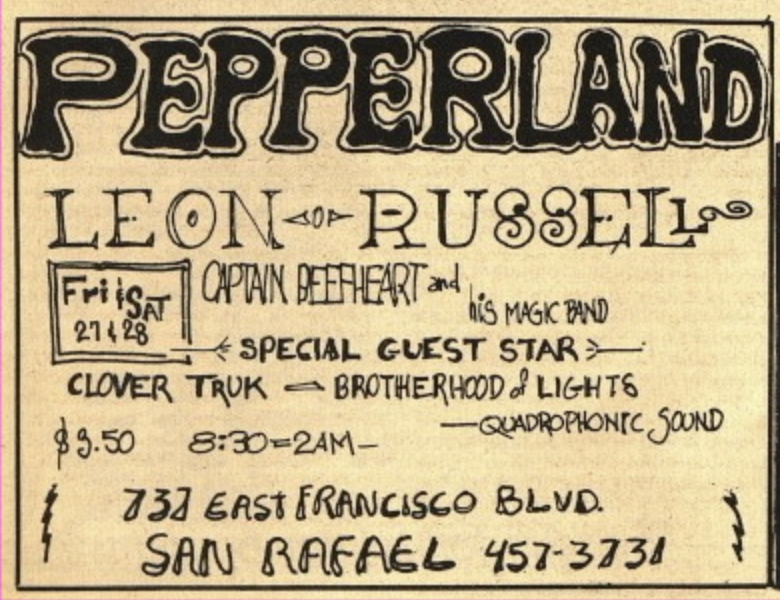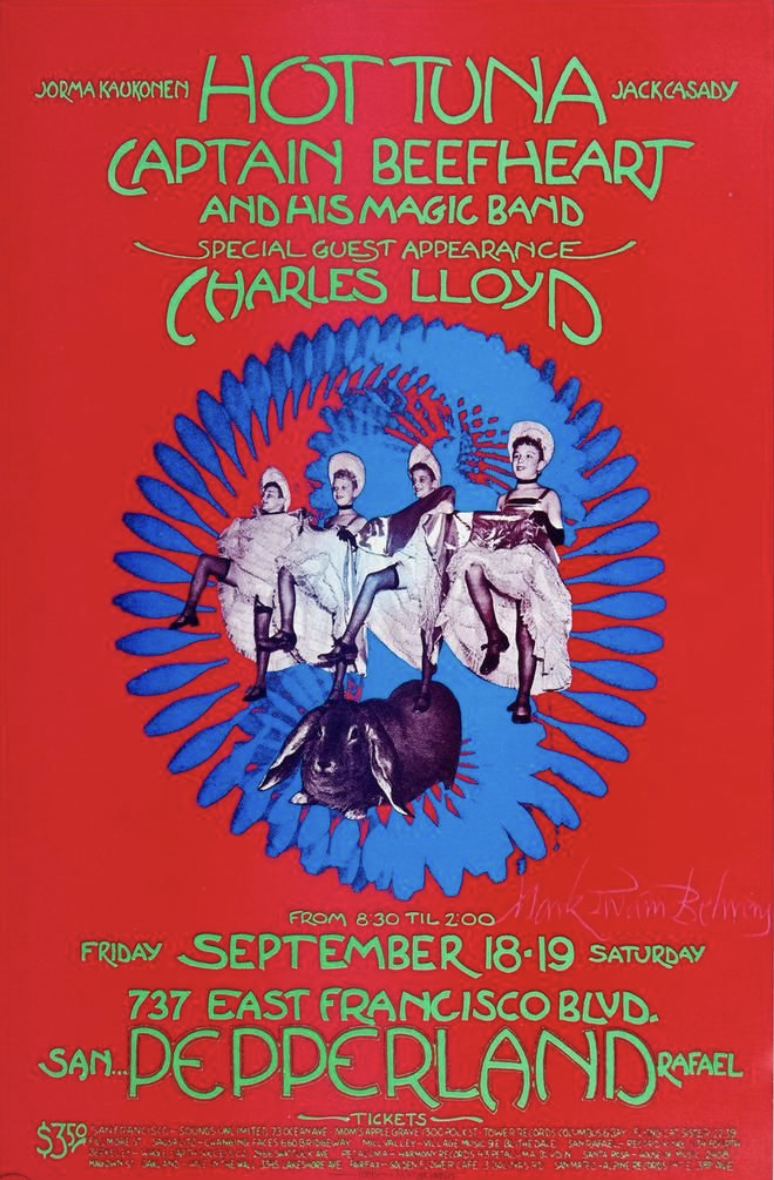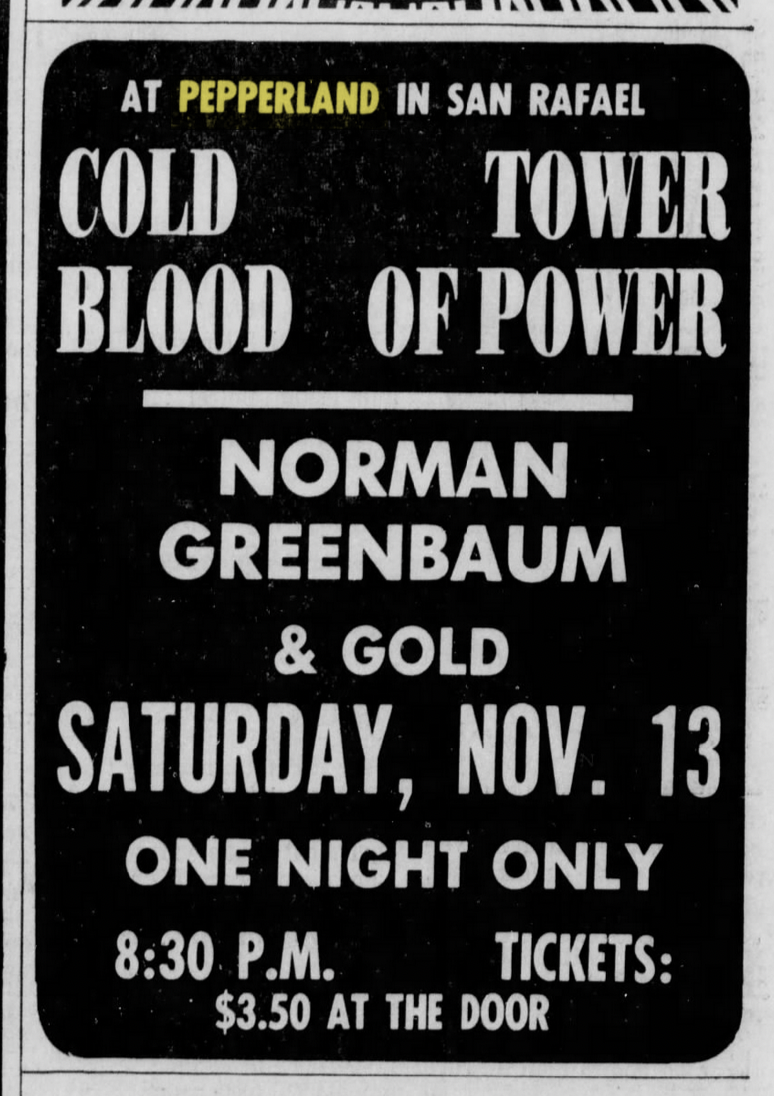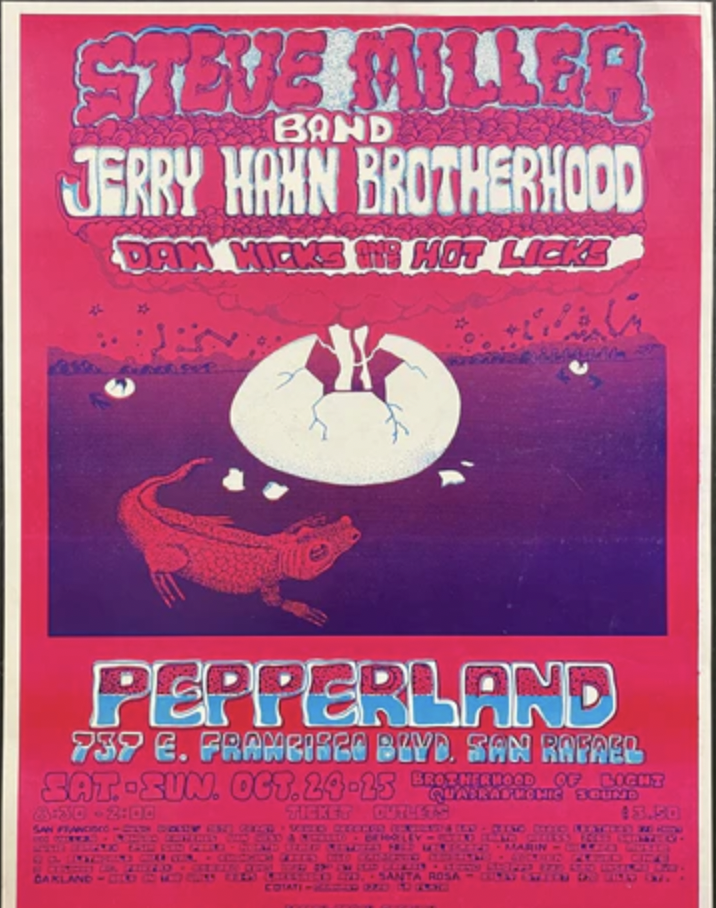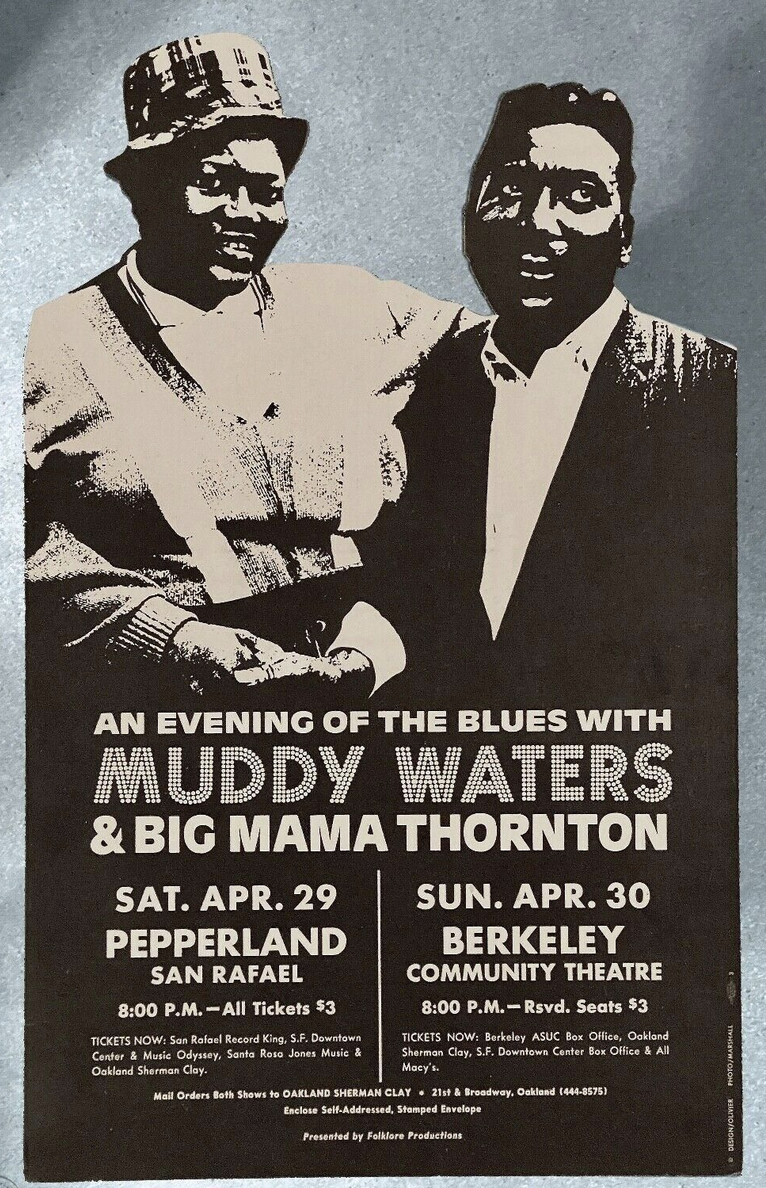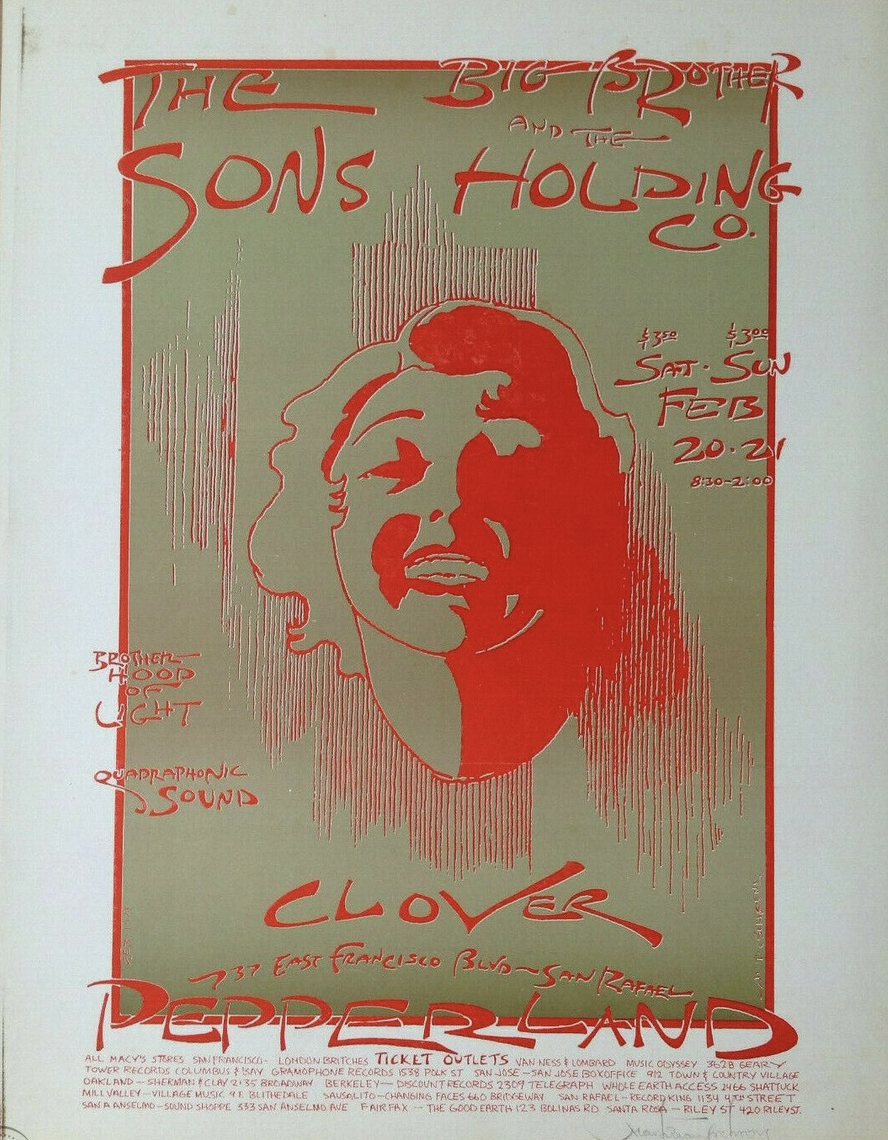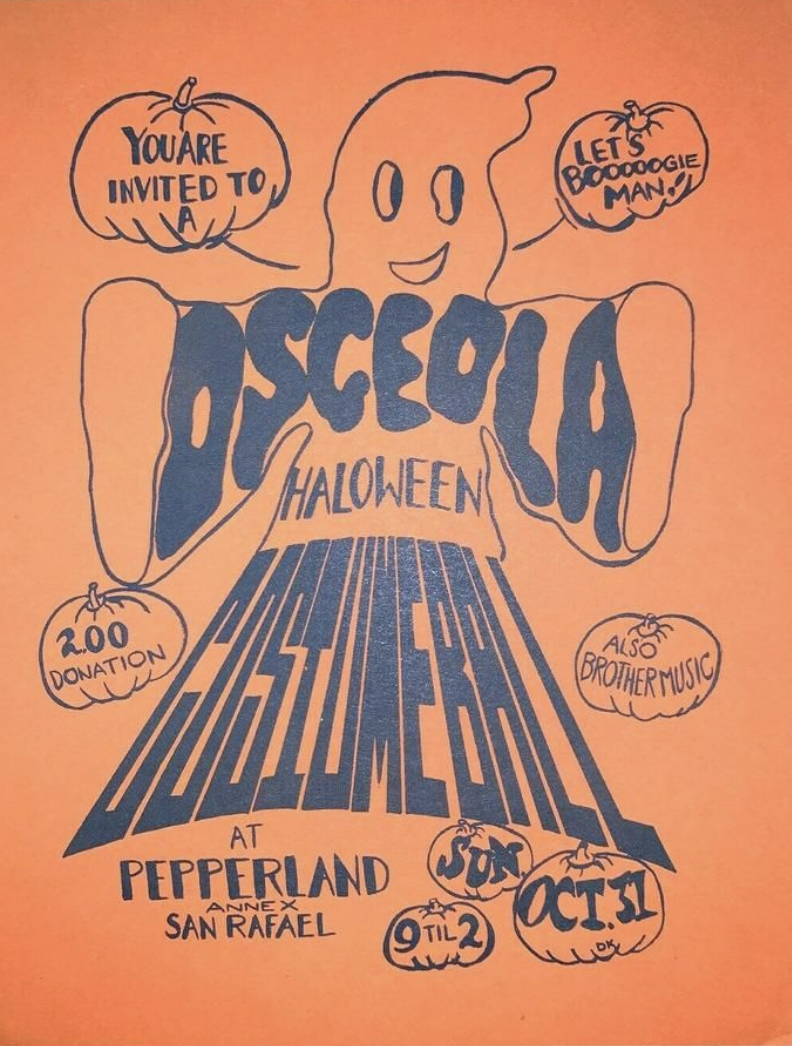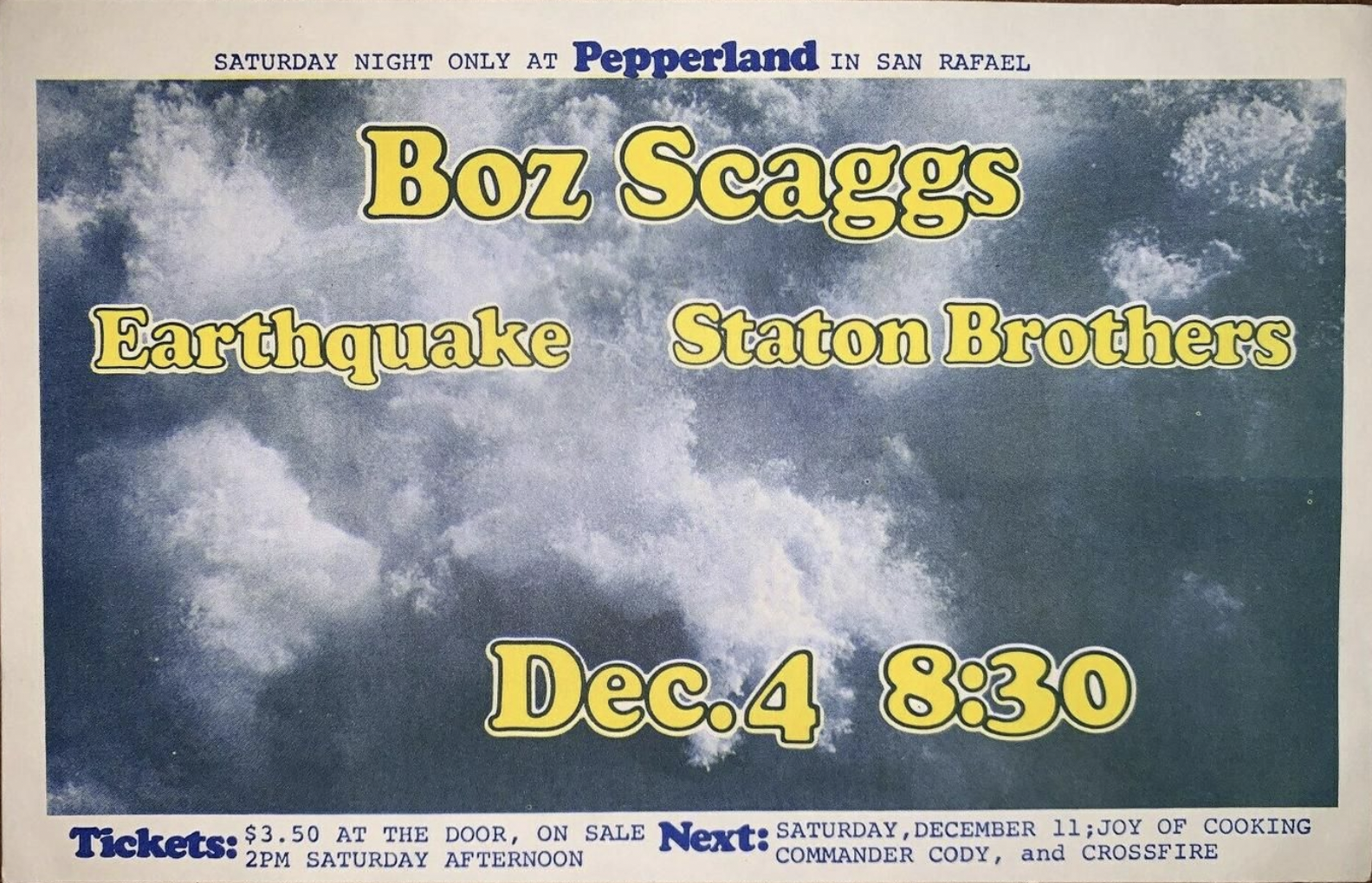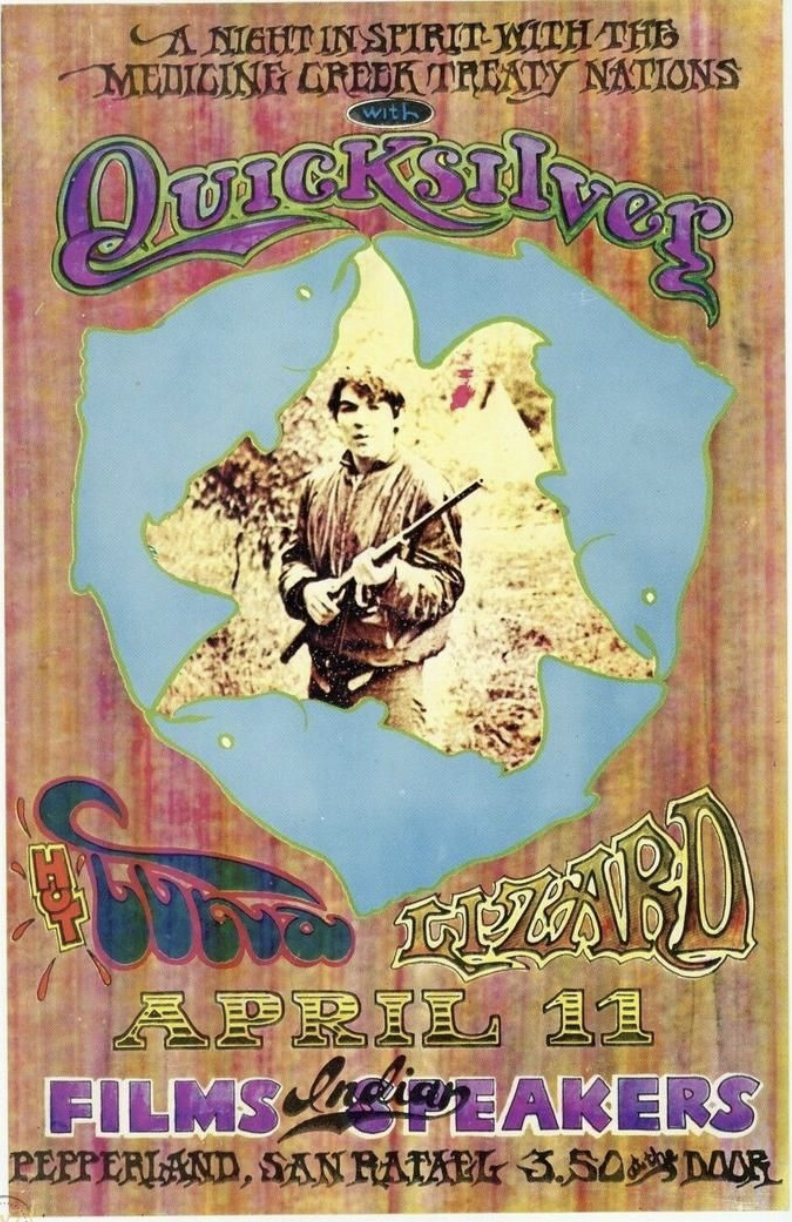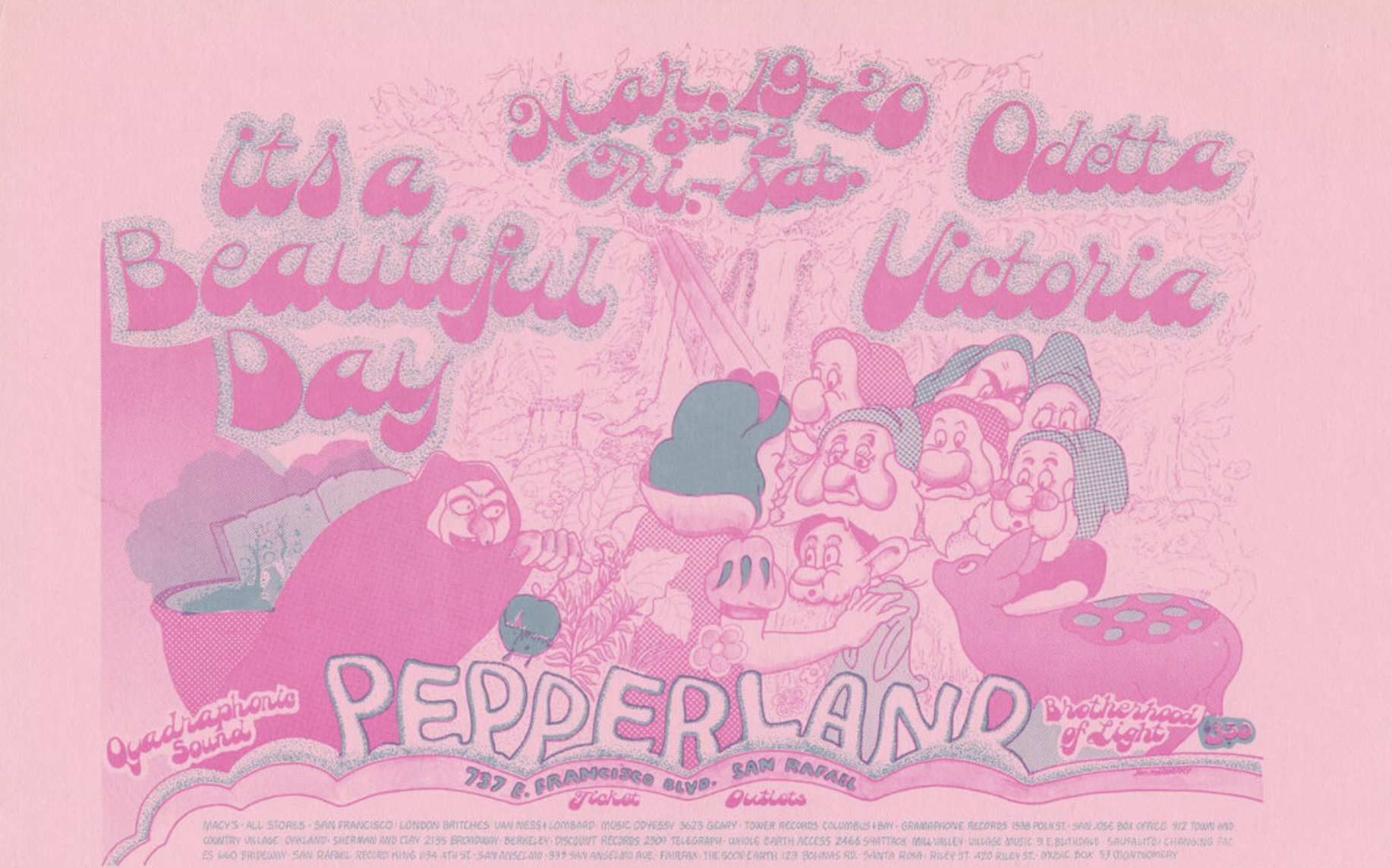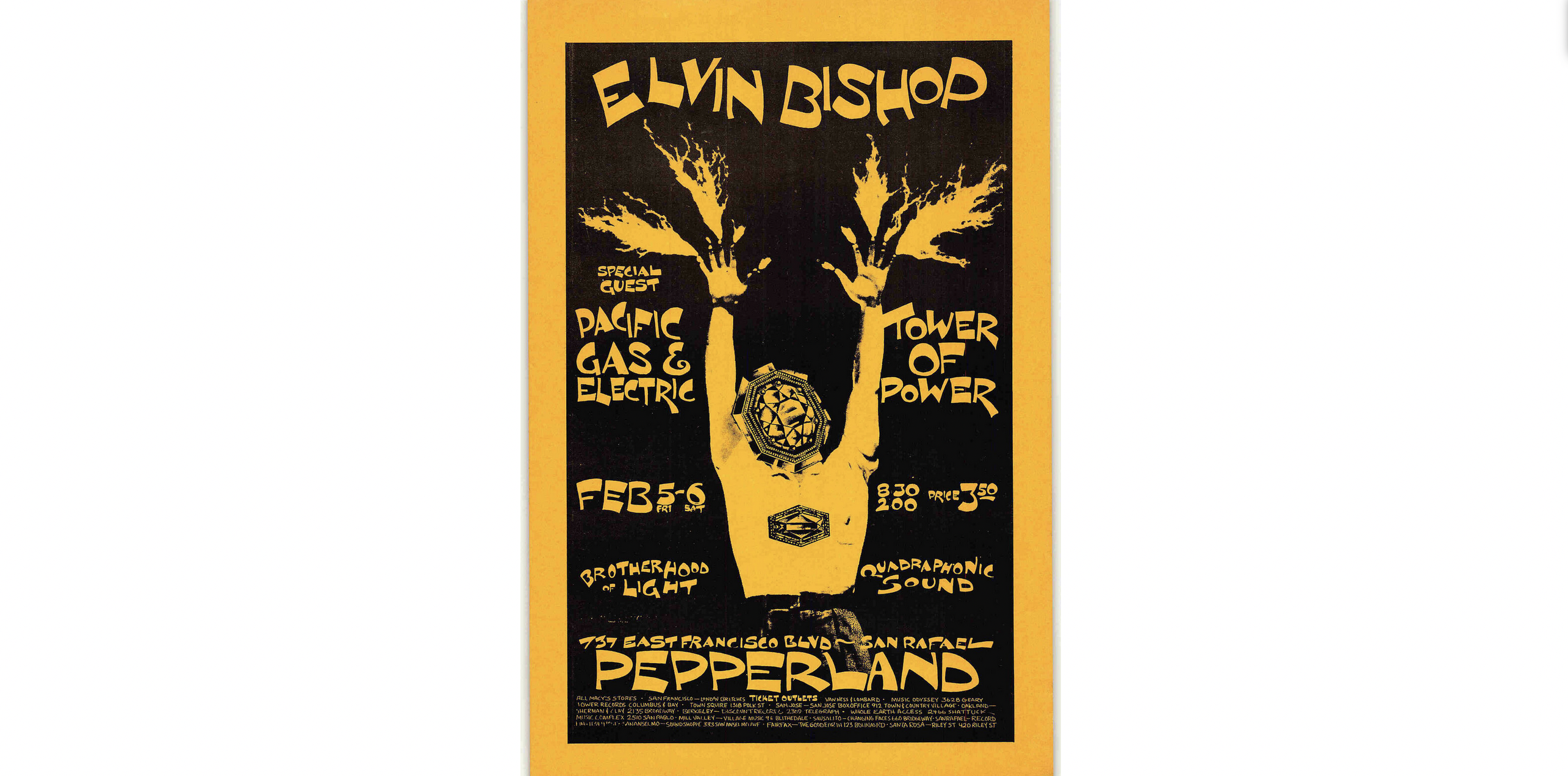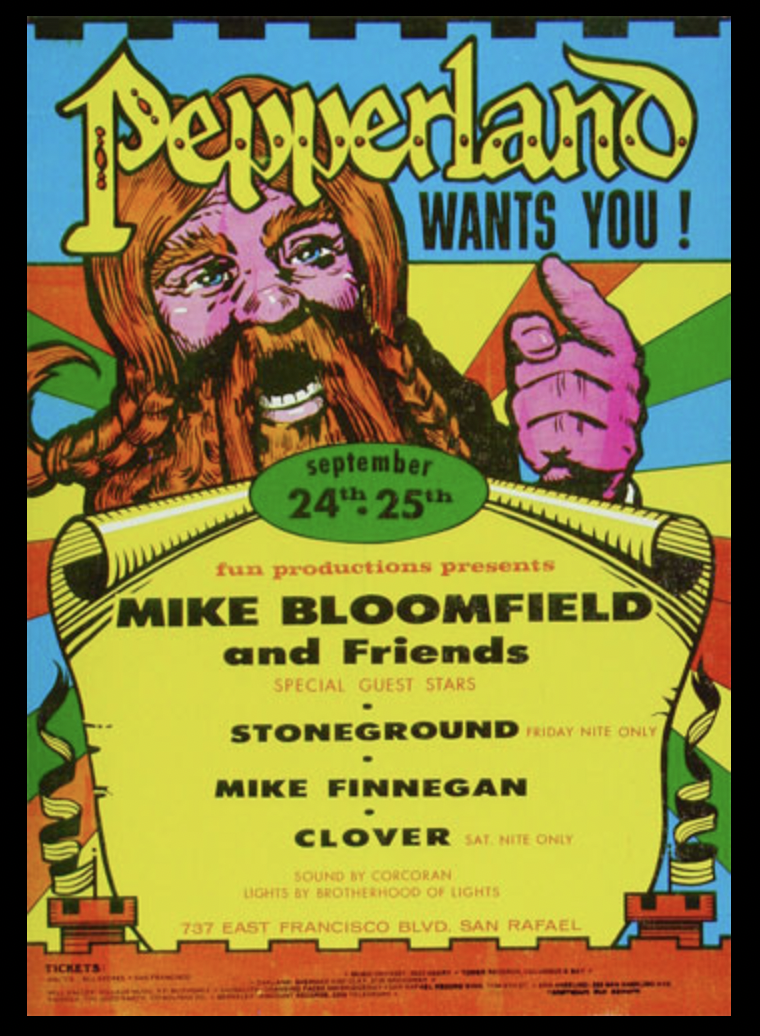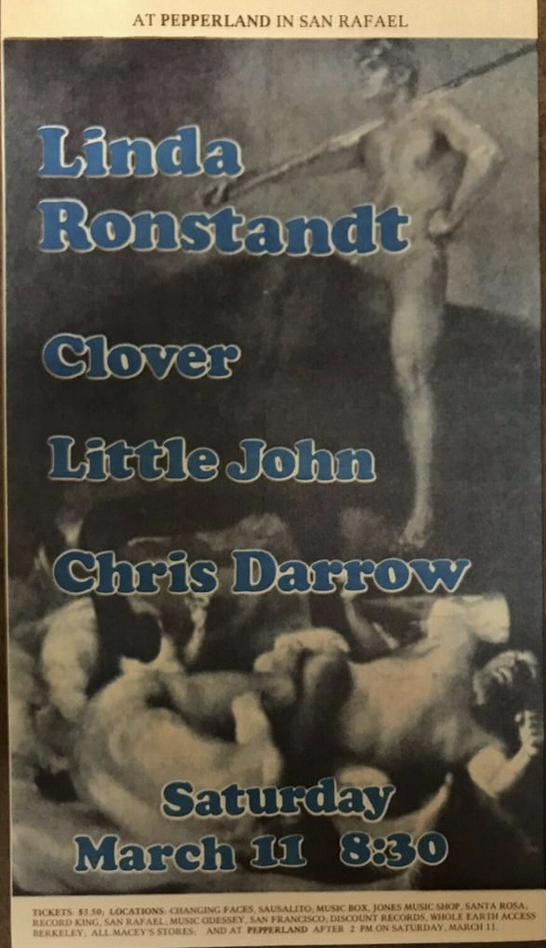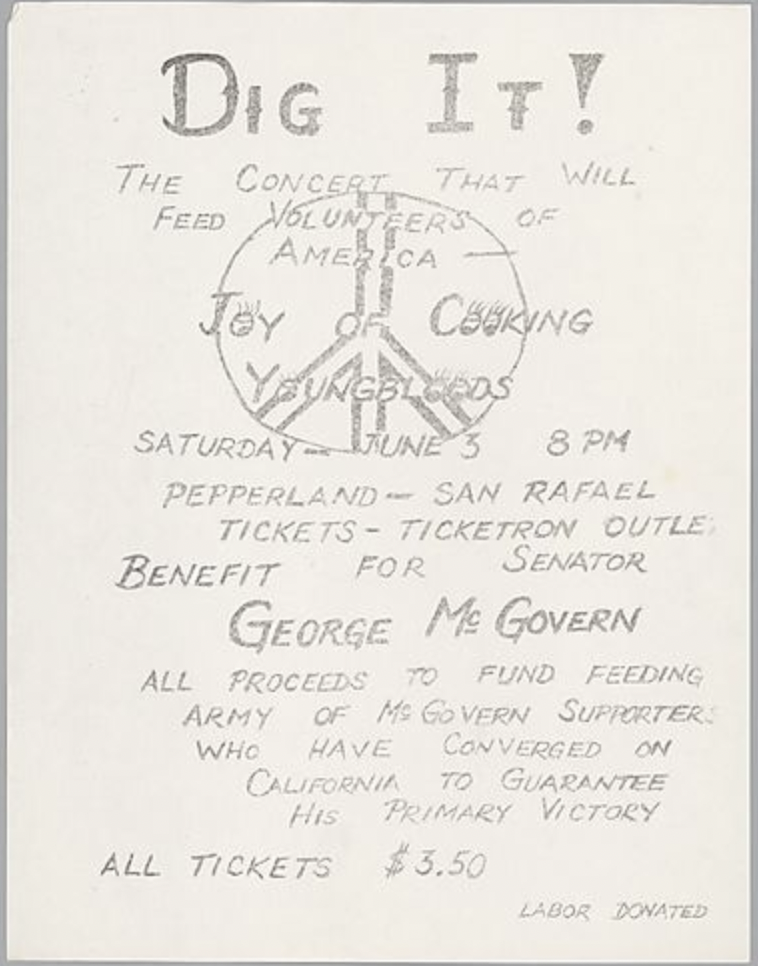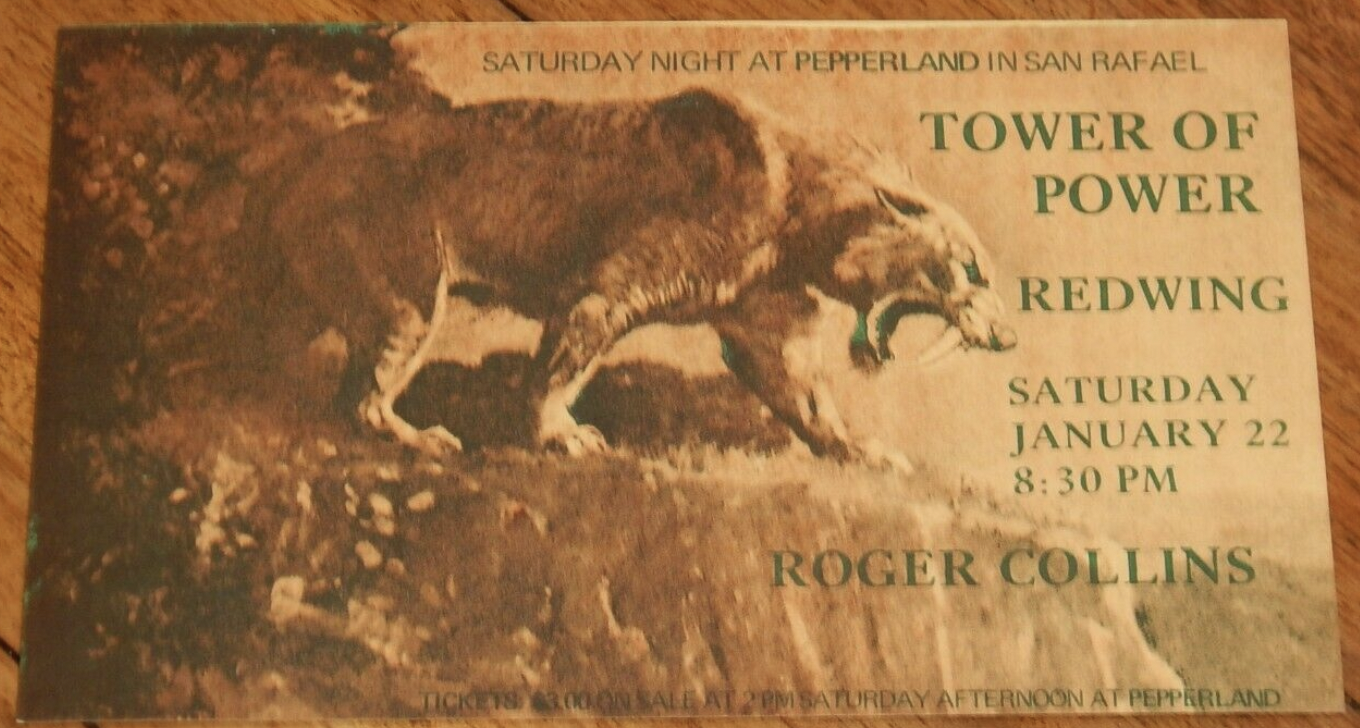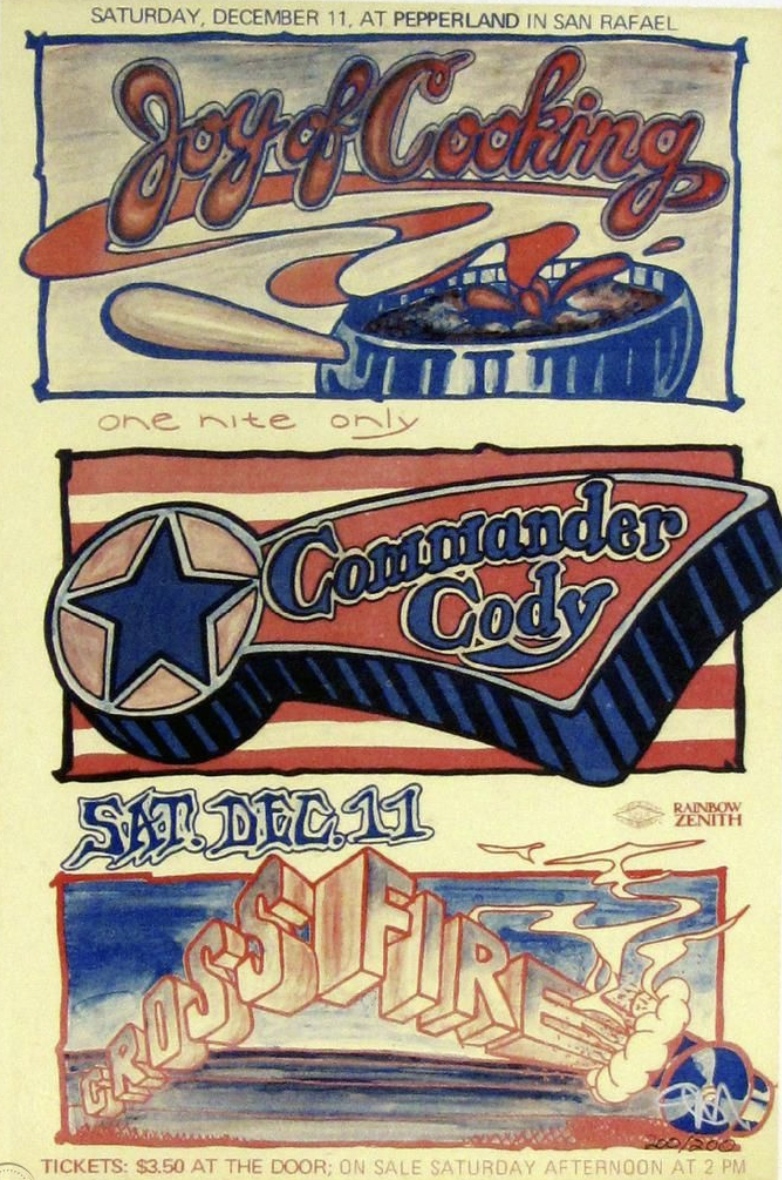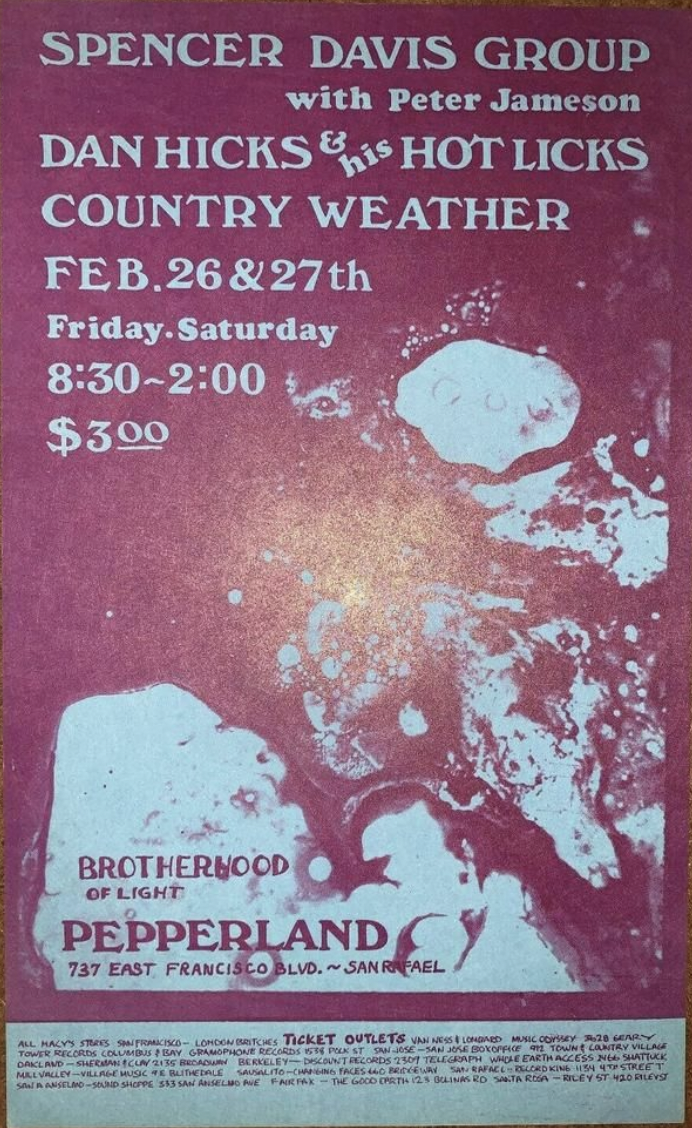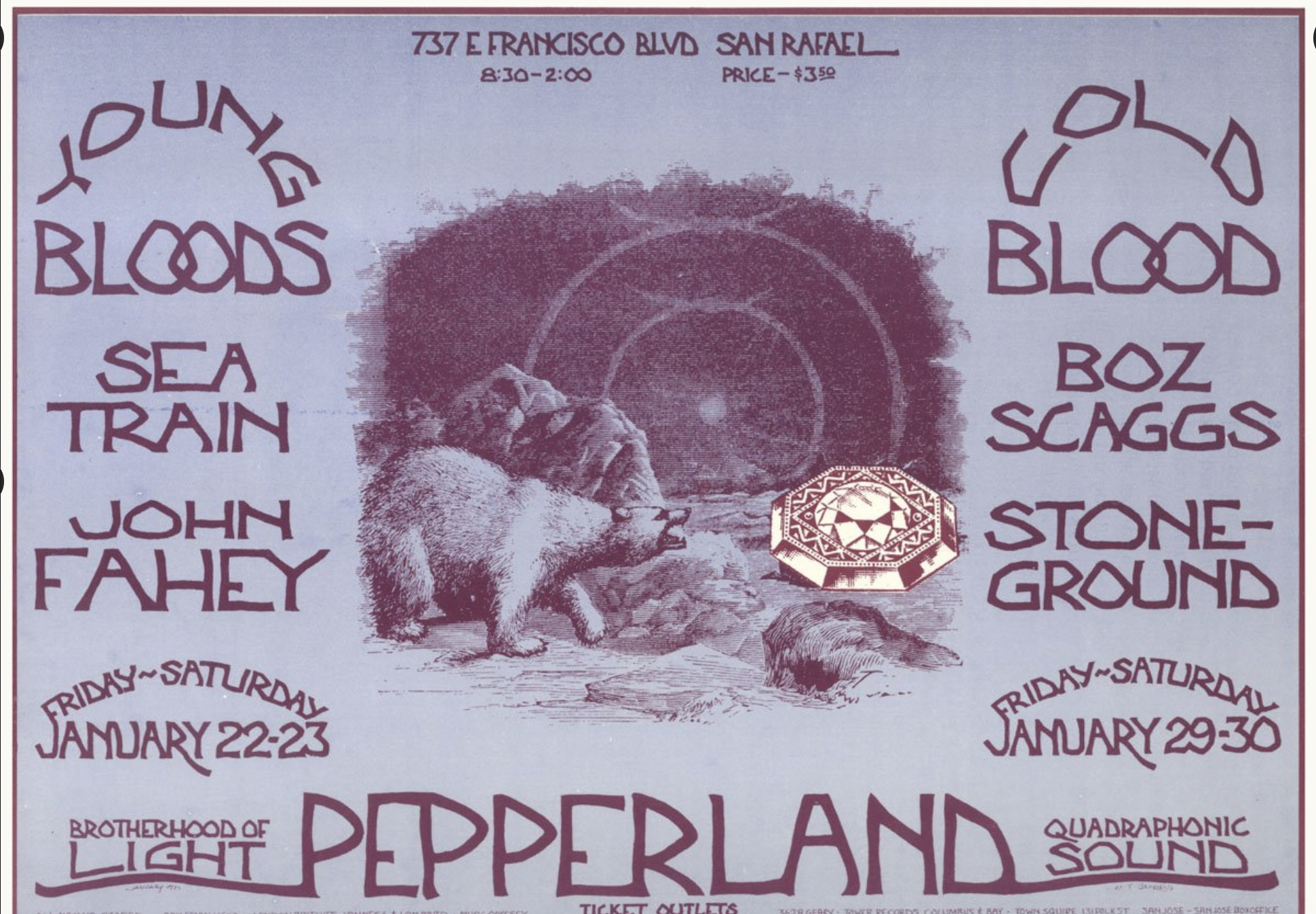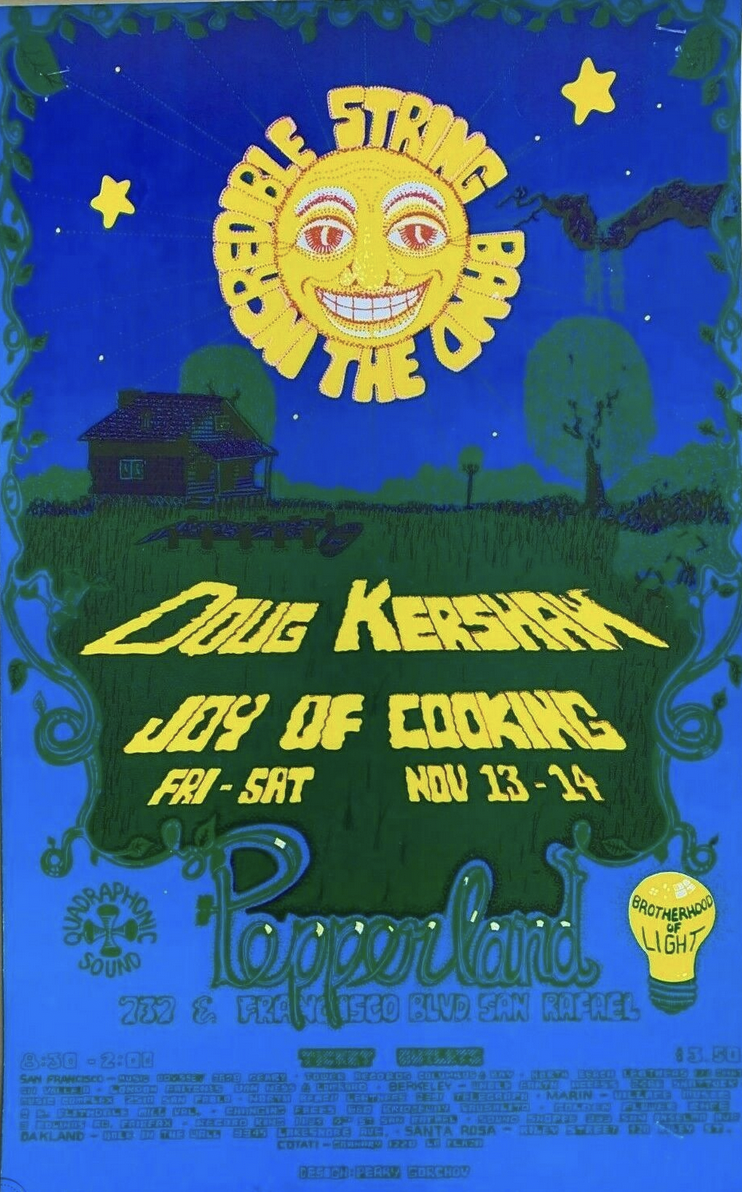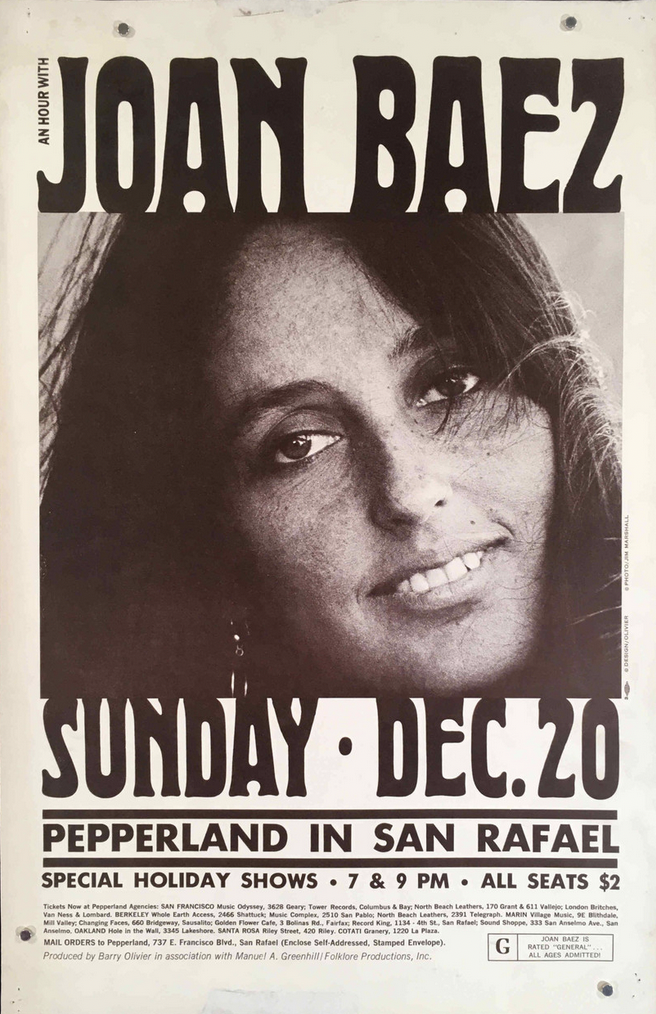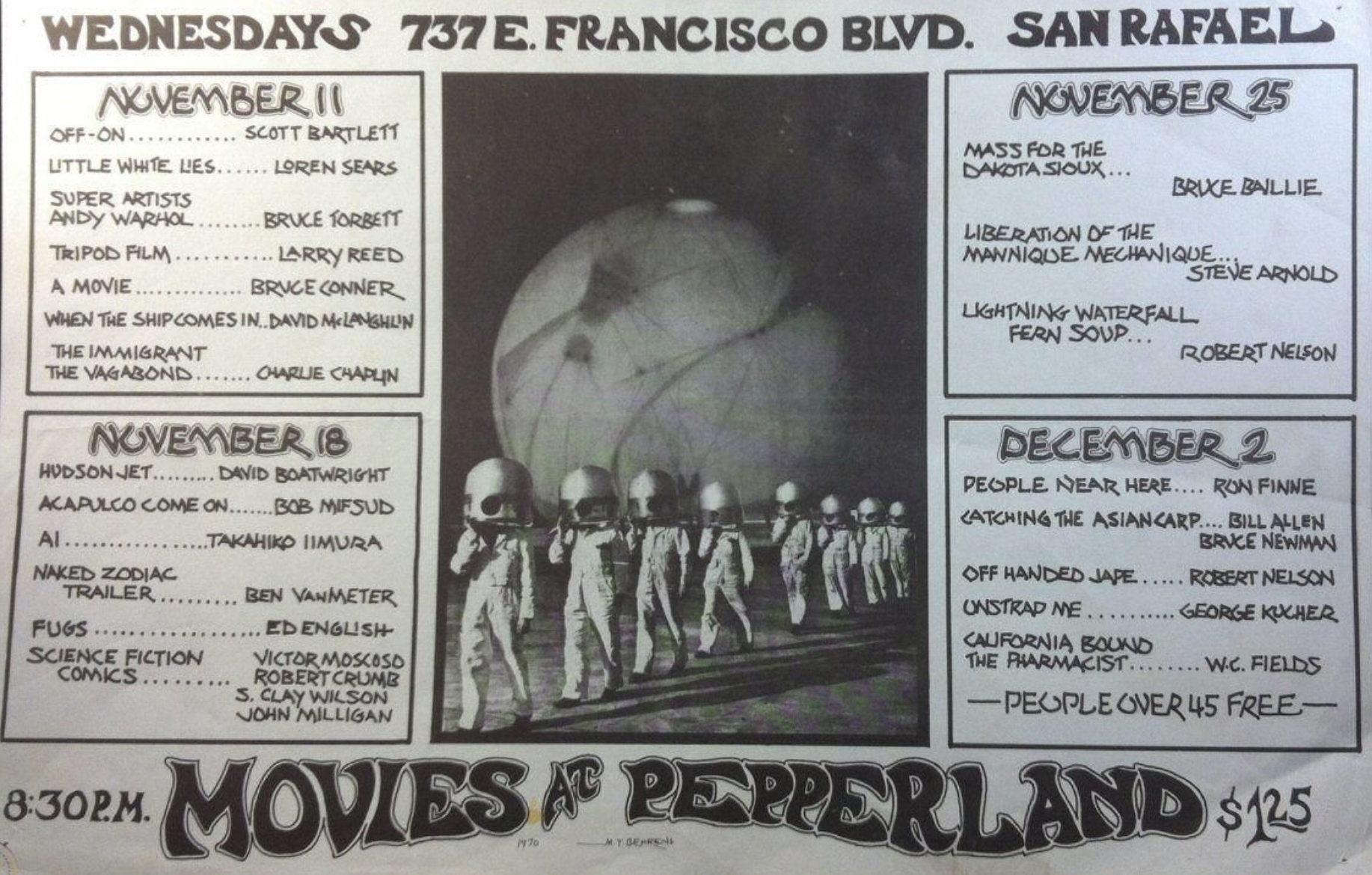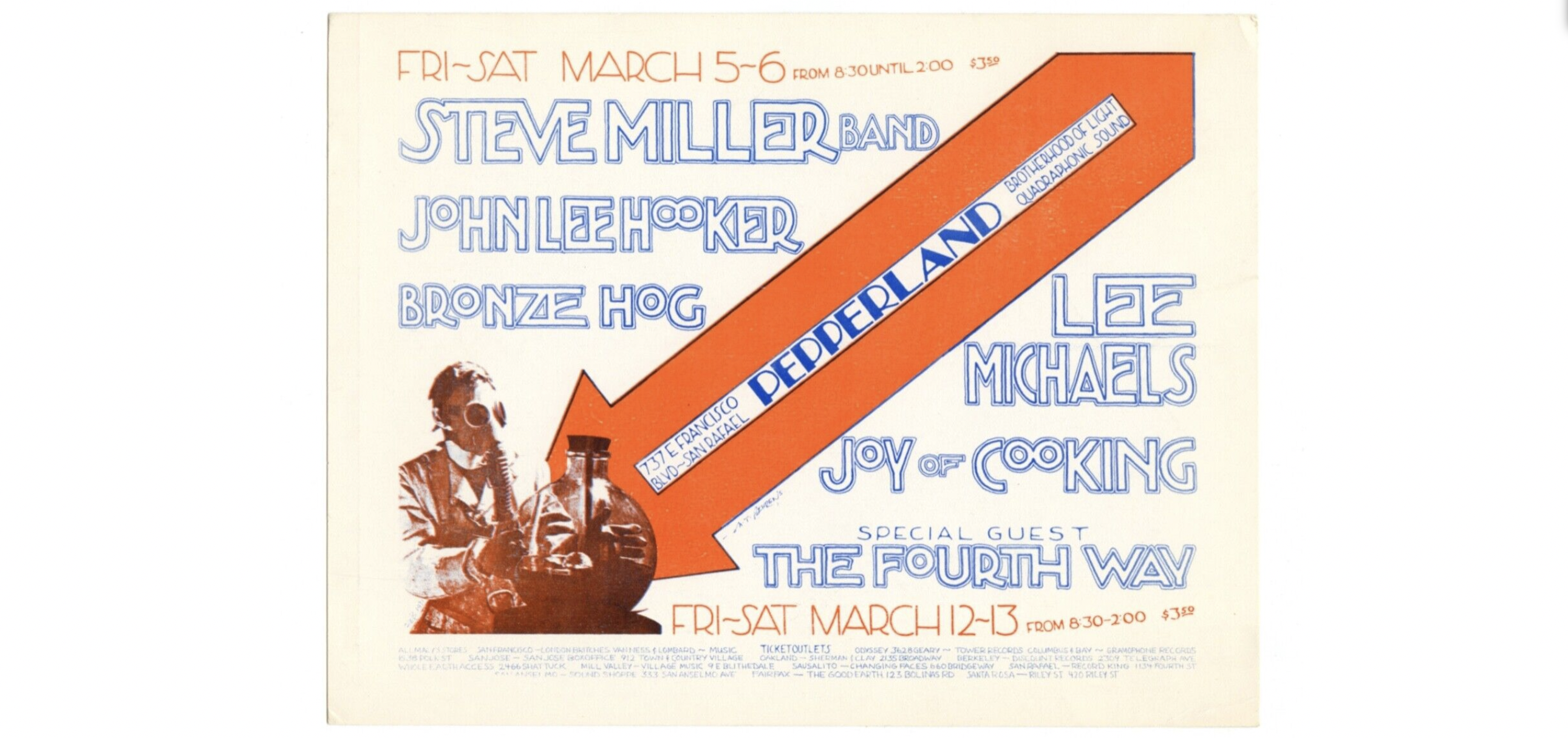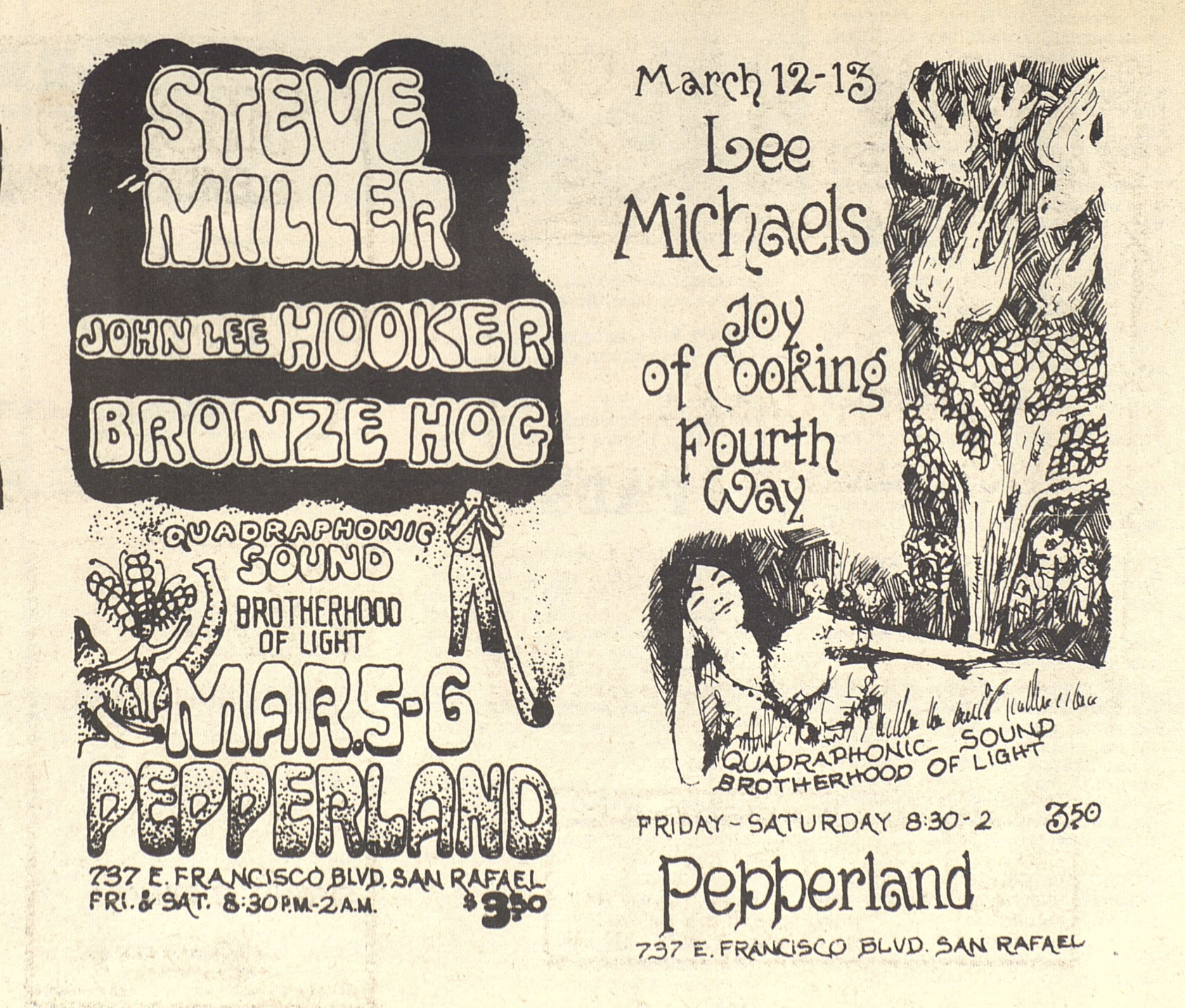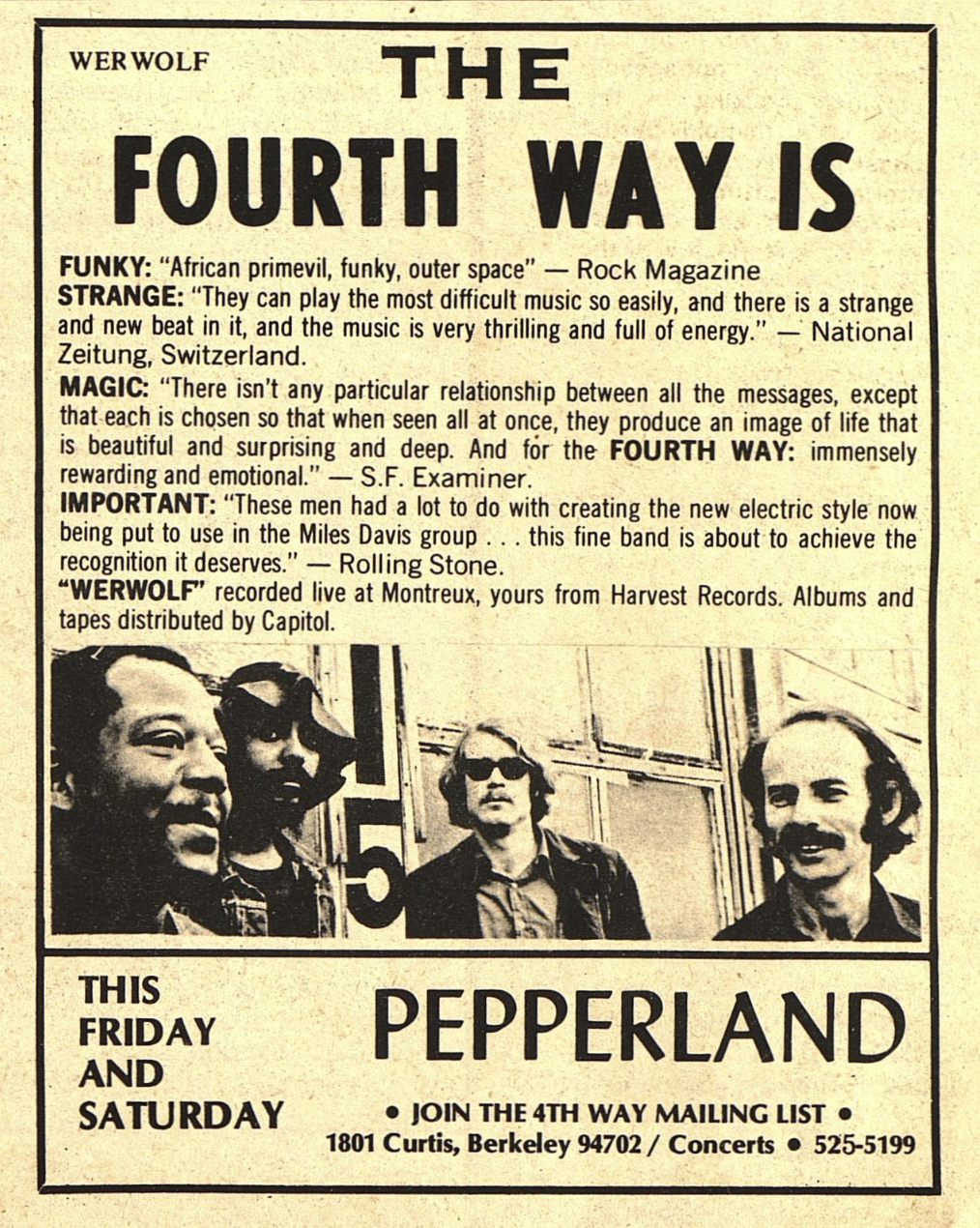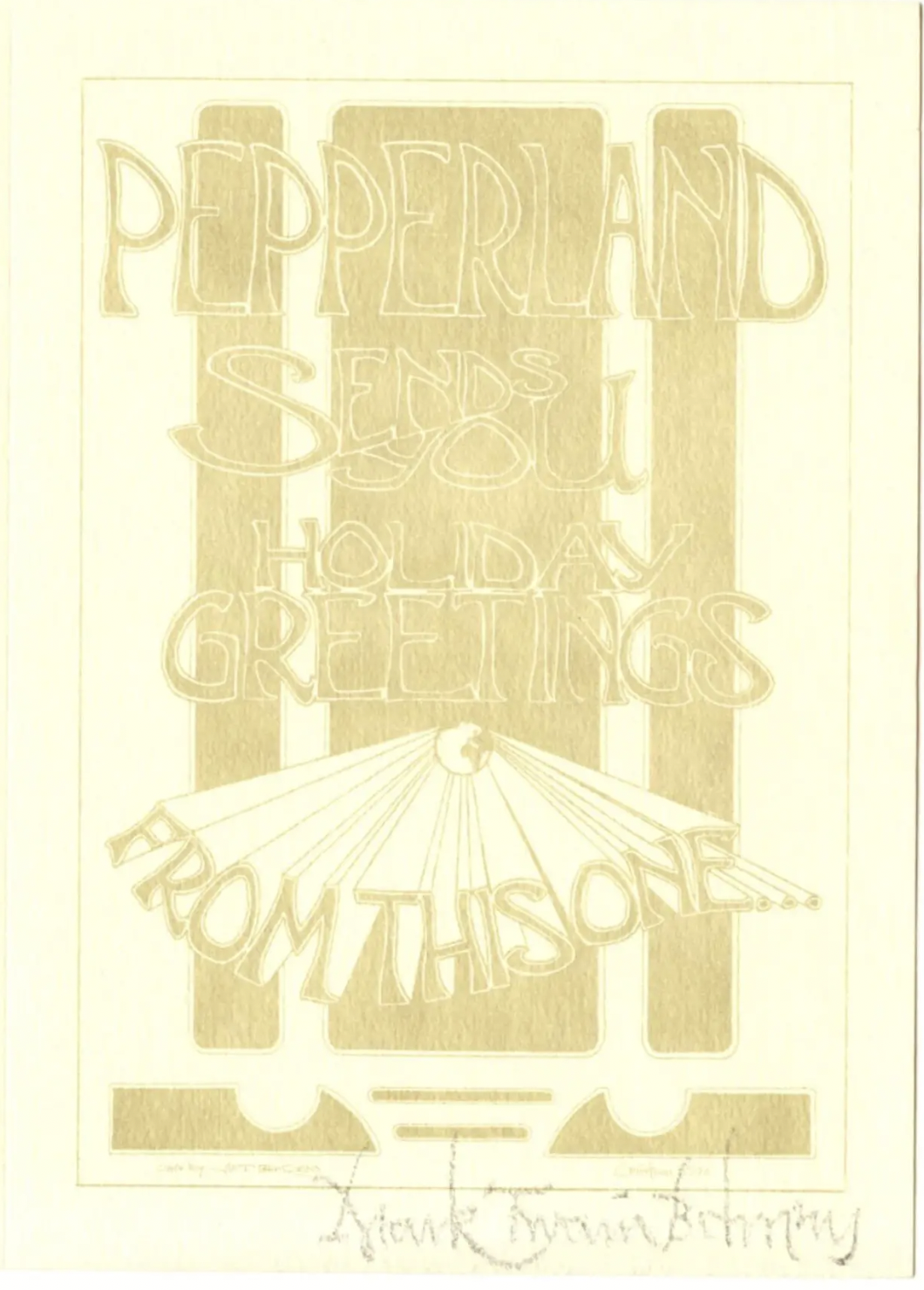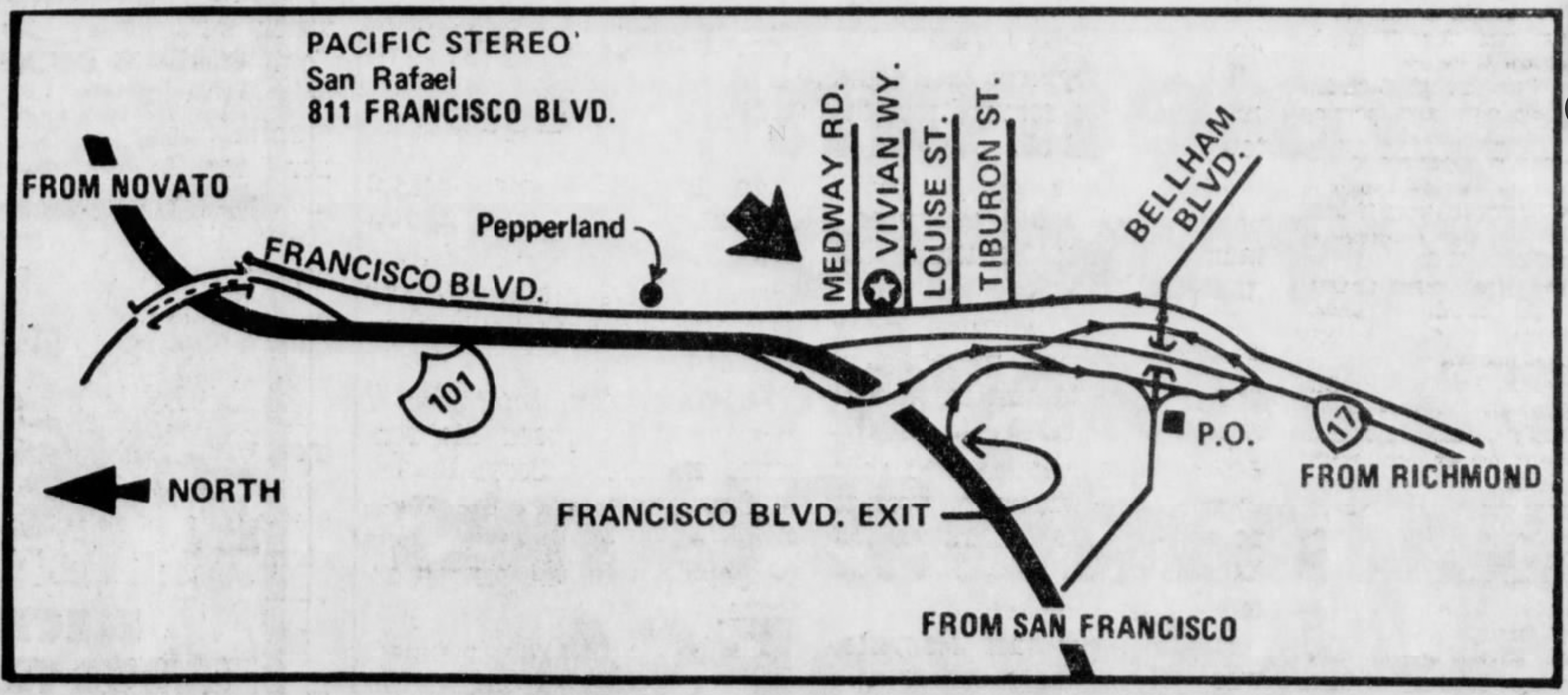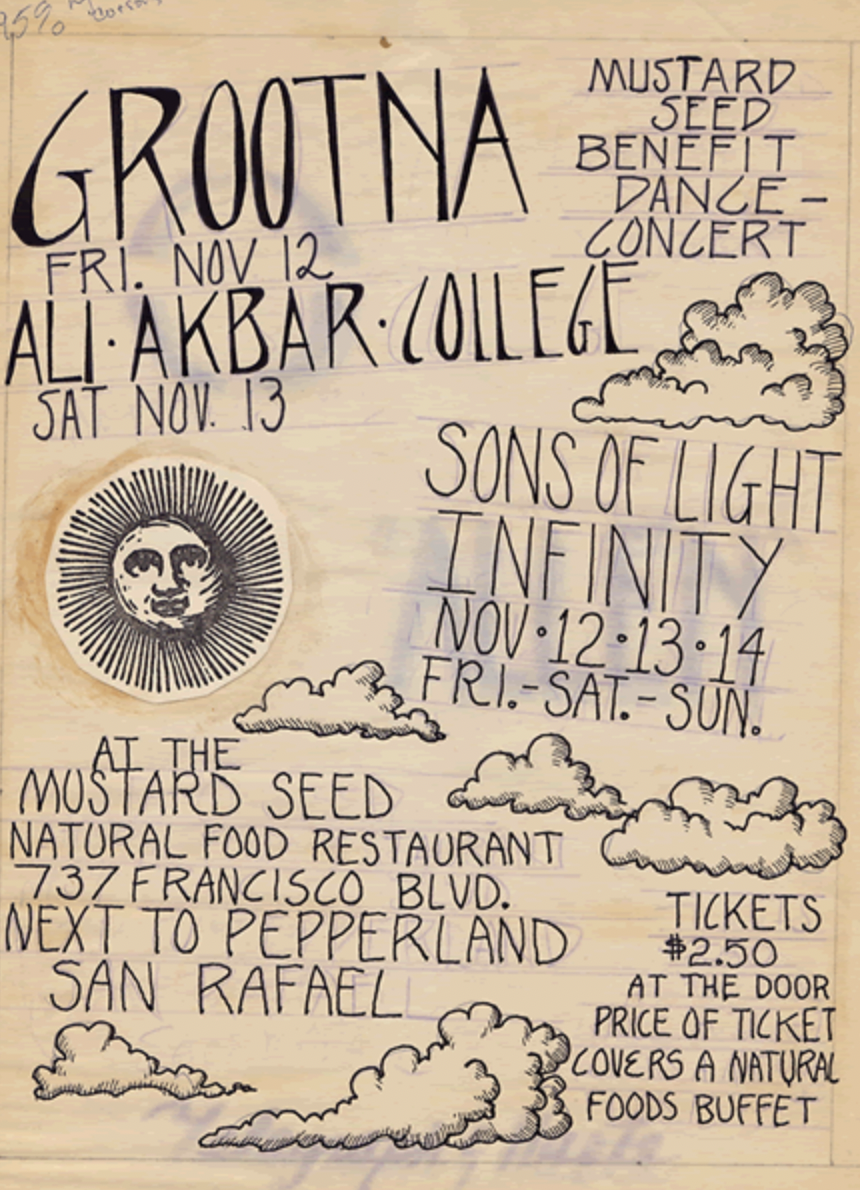 Sources: 
Charles Deering McCormick Library of Special Collections, Northwestern University Libraries. "Letter from Barry Olivier to Nat Shind", Berkeley Folk Music Festival Accessed Sun Apr 23 2023. https://dc.library.northwestern.edu/items/6acd14b3-cf3b-4134-85ae-15fedccbd52b 
Stanley, Don. "Pepperland's Great Circle." Pacific Sun (San Rafael, CA). December 23, 1970. 
Sigman, Mike. "Pepperland Dancery To Open on Coast." Record World. August 1, 1970: pg 48. 
Geary, Marilyn."Litchfield's - a Sign of the Past." Anne T. Kent California Room. 8/27/20 
Brother, Water. "Pepperland." Berkeley Tribe, Sept. 25-Oct. 2, 1970. (Vol. 3) pg.6. The Red Mountain Tribe publishing. Berkeley, California. 
"Rock Ballroom Ready to Swing Out in Calif. Town." Billboard. July 25, 1970. page 22&25. 
Campbell, Tom. "On The Scene: Rock Pops Up in Pepperland." San Francisco Examiner. July 25, 1970. Sat pg10. 
"Pepperland Will Open in San Rafael." The Los Angeles Times, August 29, 1970. Sat pg28. 

"San Rafael Eyes Closing 'Pepperland'" San Francisco Examiner, March 1, 1971. Mon. pg4. 
"Hard life and times of Janis Joplin." The Philadelphia Inquirer, November 11, 1979. Sun. pg146. 
Modderno, Craig. "Something For Young Set: The Hard Rock Scene" Oakland Tribune, September 24, 1970. Thurs. pg88. 
Courtesy Marin History Museum
Independent Journal (Marin County) 
"The Citadel." IJ. Fri. January 30, 1970. pg14. 
"Narcotics Raid Hearing Slated For July 24." IJ. Mon. July 13, 1970. pg9. 
McCarthy, C.P. "Pepperland Debate : Charges Traded On Rock Palace." IJ. Tuesday, November 17, 1970 
McCarthy, C.P. "Pepperland: A 'Bad Scene' Or Youths' Saving Grace?" IJ. Dec. 2, 1970. pg 20 
"Bomb Threat, Armed Theft Mar Concert by Joan Baez." IJ. Mon. December 21, 1970. pg19. 
"Pepperland's Safety, Use Permit Queried By Council." IJ. December 22, 1970. pg15. 
"Pepperland's Sign Is Empty As Well As 'Healthy' Coffers." IJ. Tues. April 13, 1971. pg16. 
"Charges from Motel Drug Raid Booted." IJ. April 14, 1971. pg6. 
"Charges from Motel Drug Raid Booted." April 14, 1971. pg6. 
"Pepperland Reopening Is Discussed." IJ. July 28, 1971. Wed. pg46. 
"Supervisors Nix Offer To Sponsor Rock Hall." IJ. October 18, 1972. pg16. 
Novato Historical Guild Archives
Getz, Dave. Death of Janis. to be released 2023.
Call, Alex. 876-5309/Jenny. The Song tat saved my ass… for a while. Amazon Books. Aug. 2020.
Andrew, Sam. "Big Brother history, part six, 1969 to 1972." May 9, 2012. samandrew.com. Archived from the original on May 17, 2020. Retrieved May 9, 2023.  
Bob Pullum, "Brotherhood of Lightshow Timeline," 2012. Accessed April, 2023. https://universoulightforms.com/history/bol  
Pullum, Bob. "Brotherhood of Light Show Current." Interview w/ Pooters Psychedelic Shack. 2002, Accessed April 23, 2023. https://www.pooterland.com/lightshows_brotherhood.html 
Parrish, Michael. Cryptical Developments. "Reflections on Music in the Bay Area: 60s, 70s and Beyond." February 27, 2011. https://cryptdev.blogspot.com/2011/02/pepperland-then-and-now.html  J. Garcia / D. Crosby image
Light Into Ashes, blog post "Grateful Dead Guide: The Mysterious Case of 12/21/70." October 28, 2013. Post Feb. 15, 2018  
Taj Mahal. The Real Thing. Columbia Records, 1971. Gatefold Image, Dr. Ché.
Tower of Power. LIVE Fillmore West. Bill Graham Presents, July 4, 1971.
Ezra B. Eddy IV, blog post on the subject,  March 9, 2021.  
Meyer, John. "Meyer History." MixOnline Magazine. https://www.MixOnline.com. 2013.  
Romanus, W. "The Ultimate Bootleg Experience blog, Pink Floyd." based on recollections of Rolf, Mike K., Ron C., Duckpont49, creamcheese and WRomanus. 2011. Accessed May 9, 2023. https://theultimatebootlegexperience7.blogspot.com/2013/12/pink-floyd-1970-10-16-san-rafael-ca.html  
Pink Floyd. "Astronomy Domine." Oct. 16, 1970. Live at Pepperland Audio Bootleg
Steve Miller Band. "Pepper Sauce." Sept. 18, 1970. Live Unreleased Sailor Records Audio Bootleg
The Grateful Dead. "Turn on Your Lovelight." July 16, 1970. Live Unreleased Audio Bootleg
Pepperland Imagery & Info: 
#thelencreative @ebay / Watts Music, Novato / Wolfgang's Vault 
Paul "The Poster Guy" Getchell / Marin History Museum / Anne T. Kent California Room
Marin History Museum 
Heather Powell / Marcie Miller
Carol Acquaviva
Anne T. Kent California Room 
San Rafael, Calif.
Darin Chace
Watts Music, Novato, Calif. Est 1979
Geo Thelen email Interview. Pepperland Ownership Family, Charlie Litchfield, esq. April 2023 
Geo Thelen email Interview. Dave Getz, Big Brother & Holding Company, drummer. April 2023. 
Geo Thelen email Interview. Alex Call, Clover, Guitar/Vocals/Songwriter. June 2023.
Geo Thelen email Interview. Charlie Kelly, Sons of Champlin (42yr) Crew/Roadie  May 2023 
Geo Thelen phone Interview. Charlie Ellicott, Fillmore Stage Manager/Cold Blood Mgt. June 2023.
Geo Thelen phone interview. Pepperland Promoter, Skip Whitney. May 16, 2023 
Geo Thelen phone interview. Pepperland Stage Manager, Mapes Root. May 18, 2023
#ThelenCreative #Pepperland #WoodstockWest #MusicHistory
#MusicNews #Summer #SummerMusic #SummerofLove 
#Woodstock #WoodstockPerformers #1960s #Hippie #SanFrancisco 
#LegacyArtists #LegacyVenue